Amnesia of June Bugs (Paperback)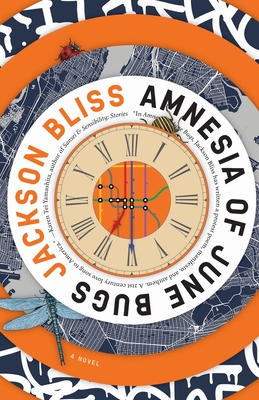 $19.99

Usually Available/Ships in 5-7 Business Days
Description
---
Jackson Bliss's brilliant and moving debut novel redefines what a novel can be. Hurricane Sandy has just smashed into the Eastern Seaboard, trapping four passengers on the C train: a Chinese American graffiti artist grieving his father's death, a mixed-race graphic designer struggling to become a mom, a Moroccan French translator escaping his heartache in Paris, and an Indian American traveler leaving Chicago to regain control of her life. Amnesia of June Bugs is an ambitious, infatuated, and furious book about the time we lost and the people we could have loved.
"Jackson Bliss paints with words. He is the Kendrick Lamar of the literary world."
-REGINA KING, Emmy-award-winning actress & director
"Amnesia of June Bugs is a lush, kaleidoscopic love song to the city. Jackson Bliss's voice is original, and intricately wrought. It is cerebral and tender. There is so much passion and love in these pages. I love how central a role identity and mixed race experience play here, and how this thrilling story keeps you gripped all the while, like a train underground in a storm, headed for what you can't know but can't stop reading to find out."
-TOMMY ORANGE, Pulitzer Prize winning author of There There
"In Amnesia of June Bugs, Jackson Bliss has written a bold, innovative masterpiece. I luxuriated over every sentence of this smart, zeitgeisty novel. At once tender and acute, Bliss deftly captures the multifaceted lives of his diverse cast of characters. The amalgamation of honest characters, stylistic feats, and shrewd social commentary makes this singular novel a must-read.
-AMY MEYERSON, author of The Bookshop of Yesterdays and The Imperfects
"In Amnesia of June Bugs, Jackson Bliss delivers a hip, intimate, and heartfelt exploration of our multicultural, cosmopolitan world, one full of promise and yet under threat. He is one of the great advocates and defenders of such a world, so urgently embodied in this very necessary novel."
-VIET THANH NGUYEN, Pulitzer Prize winning author of The Sympathizer
"A virtuosic feat of storytelling with fire on every page. It feels prophetic, like a meditation on aspects of identity and pop culture that haven't even been invented yet."
-JAMIE FORD, NYT bestselling author of books not as well written as this one
"In Amnesia of June Bugs, Ginger Lin, Winnie Yu, Aziz Al-Wahnan, and Suzanne Gupta are trapped on the C-train in the NYC underground. Hurricane Sandy swirls above. In this brief rupture in time, their rebellious metamorphoses intersect, stories emerging from hybrid bodies, woven cultures, translingual narratives at play with graffiti, screenplay, questionnaire, lyric lists. Jackson Bliss, diasporic hapa-Whitman, has written protest poem, manifesto, and anthem-a 21st century love song to America.
-KAREN TEI YAMASHITA, author of Sansei & Sensibility: Stories
"Jackson Bliss is as verbally exuberant as any writer I've come across in years. Amnesia of June Bugs is beautifully conceived, powerful, affecting, hip, comedic, and as close to being of-the-moment as it is possible for a novel to be."
-T.C. BOYLE, award-winning author of The Terranauts