Learn Spanish For Adult Beginners: Speak Spanish In 30 Days And Learn Everyday Phrases (Paperback)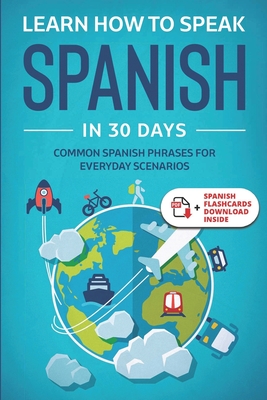 $8.04

Usually Available/Ships in 5-7 Business Days
This book is non-returnable.
Description
---
Are you tired of sounding like a gringo?
Have you ever wanted to borrow some flour from a neighbor, or ask an attractive stranger for their Instagram username? Learning how to speak Spanish like a native is hard when all you have are boring, outdated reference books filled with phrases for tourists. That is why we created this fun and engaging guide -
Learn Spanish For Adult Beginners: Speak Spanish In 30 Days And Learn Everyday Phrases
- to help you navigate daily life and communicate within relevant, modern-day scenarios. In any language, knowing 20% of its most integral words and phrases will have you covered to hold 80% of all possible conversations with total confidence, whether you're traveling amongst Spanish locals, or conversing with native Spanish-speaking neighbors, friends or clients. This
thirty-day crash course
is all you need to master this 20%, and build on that, with modern essentials relating to social media, internet access, and even online dating - you can now fall in love with Spanish in more ways than one Most other books on the market will prepare you with the fundamentals of grammar and sentence structure but leave you
hopelessly clueless and unprepared when it comes to real-life application.
This all-encompassing book covers all your basics, with the essential building blocks of grammar as well as real, native pronunciation and turns of phrase - an in-depth yet captivating combination which will make you sound as though you've been speaking the language for years In this book, we include:
A deep-dive introduction which shows you exactly how Spanish can benefit, and directly improve, your income, social life, and global enjoyment. The world is your oyster
Everything you need to know to be able to build sentences with perfect, native grammar without any hesitation. You'll be able to sell water to a fish, in Spanish
A complete collection of every possible word and phrase you will need to perfect your conversational skills, conveniently organized into fun, themed chapters like shopping, social media, business, and casual conversations. Now you can bug people for the WiFi password in more than one language
A conclusion filled with final tips to bring everything you learned together into one newly-fluent speaker of perfect Spanish - that's YOU
A glossary of helpful yet entertaining resources to help you continue your journey of Spanish Mastery past the pages of this book. After all, you never stop learning
Oh, and let's not forget that you'll receive the PDF of our highly requested "Complete Spanish Phrasebook" plus some extra digital Spanish flashcards that'll take your Spanish to the next level as
FREE BONUSES
when you secure this book today Your search for the perfect companion to help you learn Spanish is over. Everything you need to expand your linguistic horizons is right here in front of you. What are you waiting for?
Your thirty-day journey can start right now -TODAY