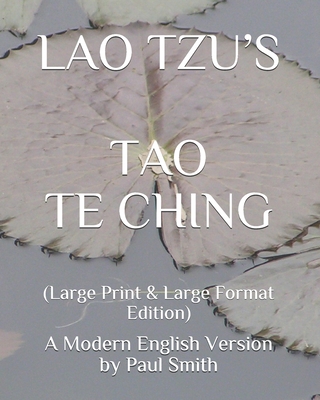 $17.25

Usually Available/Ships in 5-7 Business Days
This book is non-returnable.
Description
---
LAO TZU'S TAO TE CHING A Modern English Version by Paul Smith. The Tao Te Ching is a Chinese classic text. According to tradition, it was written around 6th century BC by the Perfect Master Lao Tzu, a record-keeper at the Zhou dynasty court by whose name the text is known in China. The text is fundamental to both philosophical and religious Taoism and strongly influenced other schools such as Confucianism and Chinese Buddhism, which when first introduced into China was largely interpreted through the use of Taoist words and concepts. Many Chinese artists, including poets, painters, calligraphers, and even gardeners have used it as a source of inspiration. Its influence has also spread widely outside East Asia and is among the most translated works in world literature. 'Tao' literally means 'way', or one of its synonyms, but was extended to mean 'the Way'. This term that was variously used by other Chinese philosophers has special meaning within the context of Taoism, where it implies the essential, unnamable process of the universe. 'Te' means 'virtue', 'personal character', 'inner strength' (virtuosity), or 'integrity'. 'Ching' as it is used here means 'canon', 'great book', or 'classic'. 81 chapters or verses in modern English, sometimes rhyming. Introduction on the book and its creator. Large Print (16pt) & Large Format (8" x 10") Edition. 147 Pages. Comments On Paul Smith's Translation Of Hafiz's 'Divan'. "It is not a joke... the English version of ALL the ghazals of Hafiz is a great feat and of paramount importance. I am astonished." Dr. Mir Mohammad Taghavi (Dr. of Literature) Tehran. "Superb translations. 99% Hafiz 1% Paul Smith." Ali Akbar Shapurzman, translator into Persian and knower of Hafiz's Divan off by heart. Paul Smith (b. 1945) is a poet, author and translator of many books of Sufi poets of Persian, Arabic, Urdu, Turkish, Pashtu and other languages, including Hafiz, Sadi, Nizami, Rumi, 'Attar, Sana'i, Jahan, Obeyd Zakani, Nesimi, Kabir, Anvari, Ansari, Jami, Khayyam, Rudaki, Yunus Emre, Lalla Ded, Iqbal, Ghalib, Baba Farid, Nazir, Mansur Hallaj, Majnun, Makhfi, Dara Shikoh, Bulleh Shah, Shah Latif, and many others, as well as poetry, fiction, plays, biographies and over a dozen screenplay.
Lao Tzu's Tao Te Ching: A Modern English Version by Paul Smith (Large Print / Paperback)