The SirtFood Diet: Learn how to Activate your Skinny Gene and Get Lean Fast. A Complete Beginner's Guide to Smart Weight Loss with Delici (Paperback)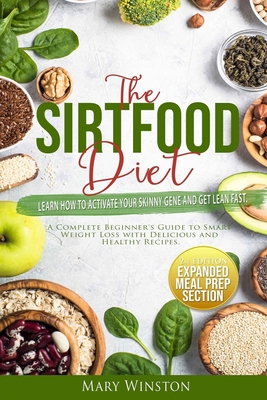 $15.79

Usually Available/Ships in 5-7 Business Days
This book is non-returnable.
Description
---
2nd Edition: EXPANDED MEAL PREP SECTION If you want to lose weight, burn fat, and still enjoy your favorite foods, keep reading...
The Sirtfood Diet isn't a fly-by-night diet. It's a lifestyle followed by some of the world's most famous people and thousands of people around the world. It's scientifically proven to help people lose weight safely and in a healthy way.
People who follow this super healthy diet report experiencing lasting energy and feeling more alert and able to focus better on everyday tasks and tasks that require clear focus.
The Sirtfood Diet is based off a revolutionary discovery of a chemical compound that's naturally found in some fruits and vegetables. That compound is the basis of this life-changing diet by controlling the way our bodies process fat and sugar. Following this diet helps to reduce hunger, boost anti-aging, and burns fat.
Inside, you'll find:
Delicious, healthy meals you can make with ingredients you have on hand
A clear, concise explanation of the Sirtfood Diet and its benefits
Meal prep ideas
A three-week plan for success
Information about superfoods
A food list
Sirtfood Diet phases and what they mean to you
And so much more
The Sirtfood Diet offers a path to guide you in incorporating SIRT superfoods into your daily meal planning. In no time, you'll reap benefits like better fitting clothes, more energy, clearer skin, increased energy, better sleep, and more.
Scroll up and click 'Buy Now' to start this life-changing diet today