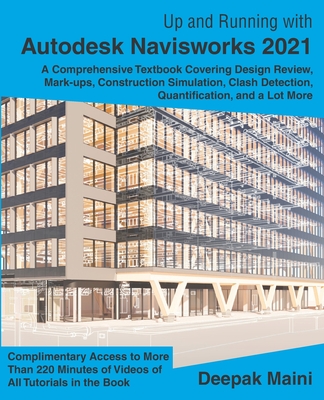 $79.35
Usually Available/Ships in 5-7 Business Days
This book is non-returnable.
Description
---
This is a comprehensive textbook specially written for the Plant/Mining and AEC professionals who use Autodesk Navisworks to review designs, create construction simulations, perform clash tests, and run coordination meetings on Building Information Modeling (BIM) or Digital Engineering (DE) projects. Real-world plant and BIM models have been carefully selected to discuss the tools and concepts in the tutorials of every chapter. You will be able to find various similarities between the models used in this textbook and your current projects. This will allow you to apply the concepts learned in this textbook to your day-to-day work.
The following are some salient features of this textbook:
Complimentary access to around 220 minutes of videos of all tutorials in the textbook.
636 pages of in-depth coverage of all modules of Autodesk Navisworks Simulate and Manage.
Detailed discussion of the Autodesk Navisworks tools and concepts followed by Plant and BIM tutorials.
Around 400 pages of tutorials on real-world BIM and Plant projects.
Tutorial on performing clash test with point cloud data.
Project-based chapter on Autodesk BIM 360 Glue integration with Autodesk Navisworks.
Project-based chapter on Autodesk Navisworks for Factory Design Suite.
Special tutorial on the animation of the subsea Remotely Operated Vehicle (ROV).
Special tutorials showing the Animator and Scripter scenes with crane animations.
Timeliner simulation linked with animator animations showing construction sequences and movement of crane and semitrailers at the construction site.
Detailed coverage of the Clash Detective module and the switchback functionality.
Timeliner based clash tests included in tutorials.
"What I do" tips describing some real-world challenges that Navisworks users face and the author's approach in those situations.
Free video showing how to use Autodesk ReCap to reduce the size of Point Cloud data before importing in Autodesk Navisworks available by contacting the author at deepak@deepakmaini.com.
End of chapter skill evaluation to review the concepts learnt in the chapter.
The following free teaching resources are available for faculty:
PowerPoint slides of every chapter in the textbook.
Answers to the Class Test Questions.
Help for designing the course curriculum.
Additional videos to help plan your classes.
Up and Running with Autodesk Navisworks 2021 (Paperback)