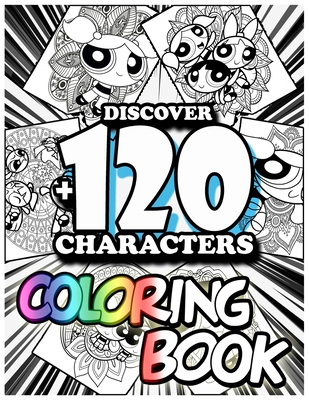 $281.74
Usually Available/Ships in 5-7 Business Days
This book is non-returnable.
Description
---
If your child loves The Powerpuff Girls, order your copy today.
This children's Coloring Book is full of happy, smiling, beautiful characters. For anyone who love The Powerpuff Girls mandala coloring book for kids, this book makes a nice gift for ages +2 years. Please note: This is not an adult coloring book and the style is that of an ordinary child's coloring book, with a glossy cover to finish. A nice large format (8.5x11 size) for small hands to enjoy.Activities such as coloring will improve your child's pencil grip, as well as helping them to relax, self regulate their mood and develop their imagination. So if your child loves coloring then order your copy today.
120 page coloring book featuring The Powerpuff Girls and Frozen 2, Paw Patrol, pokemon, Moana, The Powerpuff Girls, we bare bears, teen titan go, gumball, looney tunes, regular show, stevens universe, ben 10, adventure time, ed edd and eddy, tom and jerry, L.O.L Surprise, PJ Masks, Spiderman, The Avengers, Harry Potter, The Heroic Quest of the Valiant Prince Ivandoe oswaldo, dc super hero girls, batman, apple and onion, summer camp island, ninjago, craig of the creek, ok ko lets be heroes, unikitty, clarence, uncle grandpa, supernoobs, cloudy with a chance of meatballs, transformers robots in disguise, nexo knights, Shimmer and Shine, Top Wing, Becca's Bunch, Peppa Pig, Abby Hatcher, Butterbean's Cafe, Kiva Can Do, Blaze & the Monster Machines, Nella the Princess Knight, Rusty Rivets, Bubble Guppies, Dora the Explorer, Dora & Friends: Into the City, Fresh Beat Band of Spies, Wallykazam , Little Charmers, Team Umizoomi, Diego, Max & Ruby, Zack & Quack, spongebob squarepants, scooby doo, masha and the bear, Fairly OddParents, courage the cowardly dog, spiderman, rugrats, danny phantom, thundercats, betty boop, pinky and the brain, bugs bunny, johnny bravo, mickey mouse, ren and stimpy, totally spies, aladdin, the lion king, Muppet Babies, and... Full-sized coloring book measures 8.5 x 11 inches and has 120 pages. Jam-packed with coloring and activities; mazes, matching, and more This coloring book will provide hours of coloring fun and activities
- Be one of the first persons who will deal with this exciting coloring book
- Absolutely Newest The Powerpuff Girls Coloring Book is prepared for the upcoming Animated Movie - Disney The Powerpuff Girls
- Excellent gift for all fans of The Powerpuff Girls Movie
- Amazing quality of all images
- Single side 8.5 x 11 pages to avoid bleed through
Discover +120 Characters coloring book: Amazing 120 Pages Mandala The Powerpuff Girls Coloring Book large With illustrations Great Coloring Book for B (Paperback)