Hello! 365 Herb & Spice Recipes: Best Herb & Spice Cookbook Ever For Beginners [Book 1] (Paperback)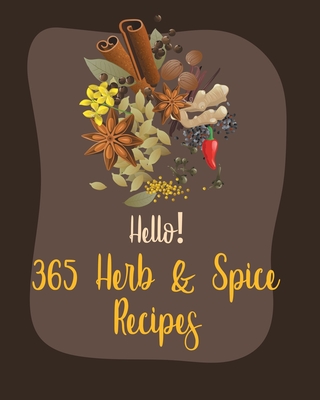 $17.24

Usually Available/Ships in 5-7 Business Days
This book is non-returnable.
Description
---
Cooking is An Edible Form of Love ✩★✩ Read this book for FREE on the Kindle Unlimited NOW DOWNLOAD FREE eBook (PDF) included ILLUSTRATIONS of 365 Herb & Spice Recipes right after conclusion ✩★✩
Whomever you cook for - like for family, friends, or even yourself - you'll surely have fun doing it. It's satisfying to see how the combination of various spices, meat, and vegetables yield an awesome flavor. From cutting to cooking them, the whole process is nothing but pure joy. Cooking calls for creativity. The kitchen is your stage. Own it Use your imagination with a twist to whip up a meal bursting with flavors Right? Let's discover the book "
Hello 365 Herb & Spice Recipes: Best Herb & Spice Cookbook Ever For Beginners
" with the following parts right now
Chapter 1: Homemade Spice Blend Recipes
Chapter 2: Amazing Spice Recipes
Chapter 3: Amazing Herb Recipes
Chapter 4: Seasoning Mix Recipes
Cooking is not for everyone. But people who are passionate about cooking, including their families, are fortunate indeed. It spreads happiness around. Do you love cooking? Sustain your passion, it's the best feeling ever When combined with love, cooking feeds the soul...There are more recipe types for other Ingredients in the series such us:
Cheese Recipes
Butter Recipes
Red Wine Recipes
Cajun Spice Recipes
Mayonnaise Recipes
Spice Blend Cookbook
Dry Rub Cookbook
Quinoa Salad Cookbook
Thai Curry Recipe
Pumpkin Spice Recipe Book
Homemade Salad Dressing Recipes
Marinades And Rubs Recipes
...
✩ Purchase the Print Edition & RECEIVE a digital copy FREE via Kindle MatchBook ✩
Thank you for your support and for choosing "
Hello 365 Herb & Spice Recipes: Best Herb & Spice Cookbook Ever For Beginners
". Let this be an inspiration when preparing food in your kitchen with your love ones. It would be lovely to know your cooking story in the comments sections below.