Hello! 365 Kosher Recipes: Best Kosher Cookbook Ever For Beginners [Book 1] (Paperback)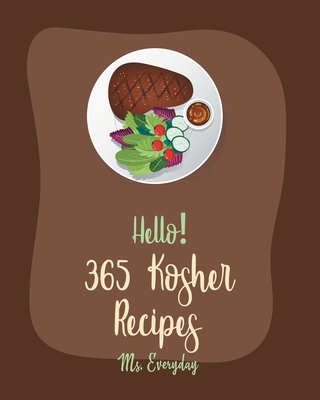 $17.24

Usually Available/Ships in 5-7 Business Days
This book is non-returnable.
Description
---
Let's Not Miss A Family Meal For Every Opportunity That We Have To Be With Our Loved Ones.✩★✩ Read this book for FREE on the Kindle Unlimited NOW DOWNLOAD FREE eBook (PDF) included ILLUSTRATIONS of 365 Kosher Recipes right after conclusion ✩★✩
All of us are yearning to be raised with so much love from family members and it's the happiest feeling to be with them always. We miss our family whenever we are away from home and always looking for that warm feeling that our home brings us. That is the reason why we always want to go home to our family after an exhausting day, either from work or school.But no matter how much you wanted to be always together, people will always become busy at work or school as this is the cycle of life. So make it a habit to eat your meals together whenever you have the chance to spend time with your whole beloved family with the book "
Hello 365 Kosher Recipes: Best Kosher Cookbook Ever For Beginners
" in the parts listed below:
Chapter 1: Kosher Appetizer Recipes
Chapter 2: Kosher Bread Recipes
Chapter 3: Kosher Main Dish Recipes
Chapter 4: Kosher Side Dish Recipes
Chapter 5: Kosher Soup And Stew Recipes
Chapter 6: Kosher Salad Recipes
Chapter 7: Kosher Dessert Recipes
Chapter 8: Kosher For Passover Recipes
I have written this series to you my dear friends, because I wanted to make your life easier and spend more time with your family in this busy life. Let's not miss a family meal for every opportunity that we have to be with our loved ones. I divided this series into different topics so you have different options according to your daily cooking needs, you may see:
Budget Cooking Recipes
Cooking For One Recipes
Cooking For Two Recipes
Kosher Vegan Cookbook
Easy Kosher Cookbook
Asian Salad Cookbook
Cabbage Soup Recipe
Kosher Meat Cookbook
Healthy Kosher Cookbook
Vegetarian Kosher Cookbook
...
✩ Purchase the Print Edition & RECEIVE a digital copy FREE via Kindle MatchBook ✩
It will now be more convenient and easier for you to plan your meals and spend more meaningful time with the family.Go ahead, have some fun and cherish the memories together with your delicious meals.