You Can't Screw This Up: Why Eating Takeout, Enjoying Dessert, and Taking the Stress Out of Dieting Leads to Weight Loss That Lasts (MP3 CD)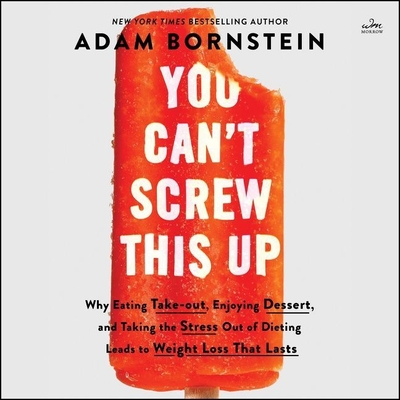 $41.99
Special Order - Subject to availability, call or email to order
Description
---
FOREWORD BY ARNOLD SCHWARZENEGGER.
What if the healthiest diet included the foods that were enjoyable and respectful of our stressful, overbooked lives? You couldn't screw it up Here's a can't-miss plan that will build unbreakable habits by incorporating mindset changes, easy restaurant options, and more from "the perfect person to blaze a better path" (Arnold Schwarzenegger).
The diet industry is great at making you follow more diets, not making you leave dieting behind. You don't need another restrictive, unrealistic plan; you need tools that help you enjoy what you eat (including takeout ) and be healthier at the same time.
Adam Bornstein is a bestselling author, and has consulted health icons including Arnold Schwarzenegger, LeBron James, Cindy Crawford, and Lindsey Vonn. He's one of the most trusted voices in health because of his ability to get results without gimmicks, supplements, or suffering.
In this easy-to-follow book, Bornstein shows how upgrading your health and losing weight for good requires you to turn your back on the typical dieting culture by following successful habits and frameworks not typically seen in nutrition and fitness. It includes
A 6-week plan that allows you to eat the foods you prefer without counting calories or stressing macros. Take-out options from the top fifty most visited restaurants in America (so you can eat anywhere guilt-free)Thirty satisfying, nutritious recipes for all meals, including cinnamon-raisin French toast sticks, nachos, and sweet potato mac & cheese with baconQuick and easy meals, and effective workouts that can be done in as little as 15 minutes.
Once you learn a better way to build healthy habits, you can leave behind the shame and guilt of most plans and make the healthy lifestyle changes you've been chasing.
Supplemental enhancement PDF accompanies the audiobook.