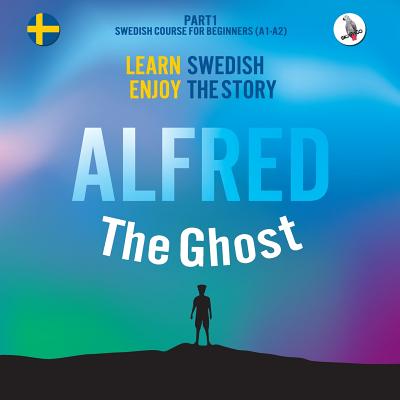 $39.99

Usually Available/Ships in 5-7 Business Days
This book is non-returnable.
Description
---
Are you tired of boring Swedish textbooks?
The kind of "Hello, my name is ..." We are. Definitely. We know that learning Swedish is hard work, but why shouldn't hard work be fun? That's why we created "Alfred the Ghost" a textbook based on a coherent story instead of dull dialogues, which starts very simply, but develops into a fascinating novel. Can't stop reading? Well then - you will have to learn Swedish
We have carefully selected the most frequently used words in the Swedish language and made sure that the story is primarily made up of them. Separate texts and exercises focus on conversational topics that will prepare you for living in Sweden.
Grammar is a headache? Not with "Alfred the Ghost". Uncover the structure of the Swedish language with pictures, informal yet comprehensive explanations, and plenty of easy-to-remember examples.
Repetition is the key to learning a language. At www.skapago.eu/alfred you will find plenty of exercises, a vocabulary trainer, videos about pronunciation, and a whole lot more.
Our Swedish teachers have co-created this book. They know all the obstacles you might incur and can help you with individual training. Since they teach through online video conferences, you can take lessons anywhere on the planet. Schedule a free demo lesson at www.skapago.eu.
This is the story: Alfred was hit by a car when Sweden switched from driving on the left side of the road to driving on the right, and he now lives a peaceful afterlife as a ghost in his house in Kiruna, Northern Sweden. But then a new family moves into his house, and Alfred, besides being annoyed by the disturbance, starts to wonder whether they have something to hide ...
Alfred the Ghost. Part 1 - Swedish Course for Beginners. Learn Swedish - Enjoy the Story. (Paperback)