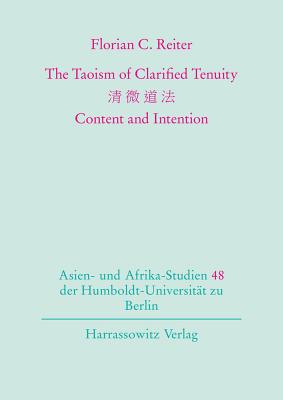 $53.00
Email or call for price.
Other Books in Series
This is book number 48 in the Asien- Und Afrika-Studien der Humboldt-Universitat Zu Berlin series.
Description
---
The term Taoism of Clarified Tenuity designates a new branch of religious Taoism developed since the 13/14th century by priests of the long-established Heavenly Masters Taoism. They claimed to continue Taoist exorcist traditions that since the Sung-period especially flourished because emperor Sung Hui-tsung (r. 1100-1126) appreciated the exorcism of Taoism of the Divine Empyrean and Five Thunders rituals. The purpose of the exorcist rituals was the expulsion of demoniac molestations, relief from droughts and inundations, and the healing of illnesses. Outstanding priests rationalized the exorcist practice, using theories of a meditative self-cultivation which peaked in the transformation into a Thunder divinity. The priest adopted a divine alter ego for the time of the ritual. Taoism of Clarified Tenuity developed on the basis of these traditions and embraced regionally different religious habits. It adopted and adapted older cults, partly including Buddhist-Tantric practices. Leading priests of Clarified Tenuity presented theoretical essays, discussing the requirements of the personal cultivation of the Taoist to be a worthy performer of exorcism who was entitled to write and use amulets. The amulet was the essential ritual tool. However, the amulets of Clarified Tenuity were remarkably different from the older Thunder amulets of the Sung era. Also, the new branch adopted different attitudes concerning ritual practices such as the transformation into a divinity. The book features developments of the more recent Taoist history and presents content and intention of Taoism of Clarified Tenuity. The selected canonical texts also show that the priests of Clarified Tenuity insisted on a clear distinction between exorcism in Heavenly Masters Taoism and shamanism that they disavowed. The book presents and analyses several Great Rituals of Clarified Tenuity and features elements of religious Taoism that today can still be traced.
The Taoism of Clarified Tenuity: Content and Intention (Asien- Und Afrika-Studien der Humboldt-Universitat Zu Berlin #48) (Paperback)