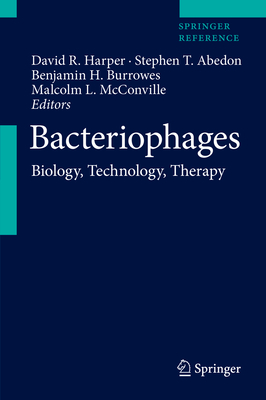 $909.99

Usually Available/Ships in 5-7 Business Days
Description
---
This first major reference work dedicated to the mannifold industrial and medical applications of bacteriophages provides both theoretical and practical insights into the emerging field of bacteriophage biotechnology. The book introduces to bacteriophage biology, ecology and history and reviews the latest technologies and tools in bacteriophage detection, strain optimization and nanotechnology. Usage of bacteriophages in food safety, agriculture, and different therapeutic areas is discussed in detail.
This book serves as essential guide for researchers in applied microbiology, biotechnology and medicine coming from both academia and industry.
About the Author
---
Dr. David R. Harper has a scientific background in virology and microbiology and is the CEO of Evolution Biotechnologies. He was the founder, CEO, and CSO of Biocontrol Limited and CSO of AmpliPhi Biosciences and managed the first modern regulated clinical trial to demonstrate the efficacy of bacteriophages. He is a member of the Alternatives to Antibiotics panel, a collaboration between the Wellcome Trust and the UK Department of Health. Dr. Stephen T. Abedon has been a member of the faculty of the Ohio State University, Department of Microbiology, for over 25 years. He has been studying bacteriophages for 35-plus years and has over 100 phage-based publications including 9 monographs or equivalents on phages which he has edited (1), co-edited (7), or single authored (1), along with 3 more edited volumes currently in progress. Additional information and resources can be found at abedon.phage.org. Dr. Benjamin H. Burrowes received his Ph.D. in medical microbiology from Texas Tech University Health Sciences Center in 2010, where his research focus was the development of therapeutic bacteriophages with extended host range using in vitro evolution. Upon leaving Texas, Dr. Burrowes worked at Biocontrol Inc. (now AmpliPhi Biosciences Corporation) developing multiple human phage therapy preparations targeting several major bacterial pathogens. Ben left GeneWEAVE some time ago and now works as Senior Consultant at Evolution Biotechnologies, Georgetown, TX, USA, working on novel phage therapeutics, and as a Senior Scientist at the Center for Phage Technology, Texas A&M University, College Station, TX, USA. Dr. Malcolm L. McConville is a microbiologist with over 30 years industrial experience. Having gained a B.Sc. (Cardiff University, UK) and Ph.D. (University of Reading, UK), he has worked in the contract biomedical research industry and for AmpliPhi Biosciences Corporation (formerly Biocontrol Ltd) on the commercial development of bacteriophage therapy products. He is currently Trials Director at Evolution Biotechnologies.
Bacteriophages: Biology, Technology, Therapy (Hardcover)