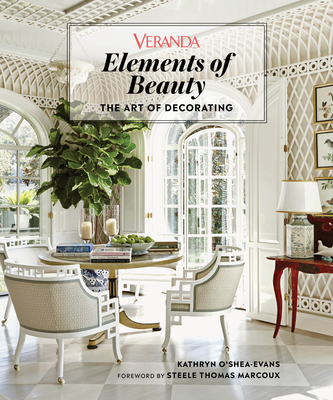 $60.00
Usually Available/Ships in 5-7 Business Days
Description
---
"This new book by Veranda is a must for anyone's library who is passionate about design."
--Bunny Williams, Interior Designer

Explore this magnificent global collection of beautiful homes from VERANDA and become inspired by the talented designers and architects who created them.

Our innate desire for beauty is every bit as powerful as our yearning for love and happiness. The editors of Veranda spoke with dozens of interior designers, architects and landscape designers--including Ellie Cullman, Celerie Kemble, Thomas A. Kligerman, Brooke and Steve Gianetti, Katie Ridder, Keith Robinson, Stephanie Sabbe, Mark D. Sikes, Ruthi Sommers, Colette van den Thillart, and Bunny Williams--about how they introduce beauty into the spaces they design so lovingly. Organized by room, each chapter displays both the grandeur of interiors and those special details that make a room arresting, reminding readers that some of the most beauteous thrills can happen in any corner of the home. From kitchens and bathrooms to bedrooms and gardens, these are the glorious spaces that feel as good as they look and invite us in with their enthralling combination of color, pattern, and texture, along with stunning architectural features like beamed ceilings, Venetian plaster walls, and an arbor fireplace.

Step inside spectacular homes in exclusive locations like Palm Beach, New Orleans, Provence and Mustique to find:
• Stunning color photographs that illuminate the designers' process, room by room
• Personal advice on creating delightful living environments
• How balance and scale are achieved in every space, from grand architectural elements to small details
• An intimate view of light-flooded sunrooms, jewel-colored high-gloss walls, bronze window casings, antique doors, displays of Japanese textiles, and superbly dressed beds
• Inspiration to live beautifully and gracefully and to establish your own personal style
About the Author
---
Kathryn O'Shea-Evans is a contributing editor at House Beautiful and was formerly a senior editor at the Hearst Design Group and associate editor at Travel + Leisure. Her work has been published in The Wall Street Journal and The New York Times, and she appears as a guest lifestyle expert on national media.

Steele Thomas Marcoux is a veteran of the design publishing industry, having served in senior editorial roles at County Living, Coastal Living, and Southern Living prior to being named Veranda editor-in-chief in 2018. Steele serves on the board of directors for the Alabama School of Fine Arts in Birmingham, where she lives with her husband, two sons, and dog Sawyer.

VERANDA epitomizes the very best in living well. The pages of VERANDA are adorned with classic, modern, and eclectic design, showcasing homes and designs from around the country, and the world.
Praise For…
---
"This new book by Veranda is a must for anyone's library who is passionate about design." 
—Bunny Williams, Interior Designer  

"I have been devoted to Veranda since the first issue landed on my desk and having my work published in the magazine has been an honor and benchmark for my career so imagine how thrilled I was to be included alongside so many talented designers in this remarkable compendium which will undoubtedly become an invaluable resource for my office.  Room by room, there is so much we can study, appreciate, and find inspiration from in Veranda Elements of Beauty." 
–Cathy Kincaid, Interior Designer, Author of The Well Adorned Home: Making Luxury Livable

"Veranda books are the perfect go-to source of design inspiration over the years and I'm looking forward to Elements of Beauty to add to the list."
–Richard Hallberg, Interior Designer

"This sumptuous book,  full of extraordinary interiors by leading design talents, delivers on its promise to illuminate the creative ideas that make houses for comfortable and beautiful living.  This book is more than just a pleasure to peruse. The text and captions are full of pearls of wisdom and inspiration that make us see and understand how great interiors are made."
—Katie Ridder, Interior Designer 
 
"Veranda is one of the most inspiring magazines today, and Elements of Beauty makes a beautiful compendium. I love seeing projects and images they've captured through the years all in one place. I'm honored to have some of my work included!" 
—Mark D. Sikes, Interior Designer

"Beauty that crosses over the boundaries of traditional and modern interiors. A book that showcases the evolution of American style and design. How wonderful to find my interiors woven into the pages of this exceptional look inside the interiors of Veranda."
—Thomas Pheasant, Interior Designer
 
"Veranda has always been known for showcasing classic elegance and timeless style, and their new book, Elements of Beauty, is an incredible collection of the best of the best! Cullman & Kravis is always honored to appear in the pages of Veranda, and I am certain that Elements of Beauty will be the new go-to source of inspiration in our design library." 
—Ellie Cullman, Interior Designer

"This elegant and evocative book is intelligently categorized by room. But you really can't really categorize beauty and in this volume, beauty abounds. I have been lucky enough to visit some of these rooms and there are quite a few that I would love to live in. I certainly want to visit every one of them and I can now, again and again, by simply opening this book and dreaming. What inspiration." 
—Thomas A. Kligerman, Interior Designer

"I'm thrilled to see my Veranda library expand with this lavish work, Elements of Beauty; an inspiring work of erudition and visual seduction that will be referenced for years to come."
—Colette van den Thillart, Interior Designer


Veranda Elements of Beauty: The Art of Decorating (Hardcover)