Rethink Your Position: Reshape Your Exercise, Yoga, and Everyday Movement, One Part at a Time (Paperback)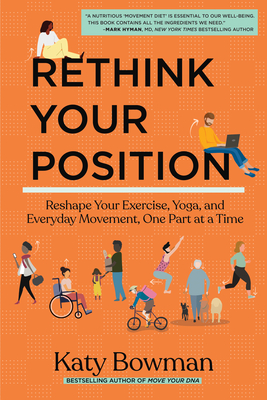 $19.95

Usually Available/Ships in 5-7 Business Days
Description
---
We make hundreds of movement choices all day long, whether we know it or not: Walk or drive? Sit or stand? Hip to the right or to the left? Heels or flats? So how can we make the choices that leave us feeling and moving-even thinking-our best? It starts the ways in which our body is positioned throughout the day, whether working, exercising, or resting.
Rethink Your Position is your guide to everyday anatomy and alignment-part by part.
Daily aches and pains can feel unavoidable, but we can start feeling better by moving better.
And moving better starts with our individual body parts, and the relationship between and among those parts and the forces or loads they experience.
Professionals, experienced exercisers, and new-to-movement newbies alike will discover the big and little ways our body parts move. Rethink Your Position explains how to check the way different areas are moving now, includes precision exercises to get important parts moving better, and shows how to support better health by making small changes -not only at the gym, but at the office, in the kitchen, on a walk with friends....even while you're sleeping.
With her trademark clarity and humor, biomechanist, movement teacher, and bestselling author Katy Bowman provides simple, engaging instructions that will have you rethinking your position by reshaping what you're already doing. Learn how to:
● Avoid a "tech neck" by adjusting your head while looking at your phone
● Set up your computer space to open tight shoulders
● Switch up the way you walk for happier feet and knees
● Care for your hips and psoas muscles by sitting differently
● Adjust your pelvic tilt for a stronger pelvic floor and glutes
● Wake up feeling refreshed by changing your sleep shape
● Find even better form in your regular yoga, Pilates, or fitness workout
● Care for your brain (and mind) with simple movements-like chewing
Transform how you think about movement. Then watch your whole life change
About the Author
---
Bestselling author, speaker, and a leader of the Movement movement, biomechanist Katy Bowman, M.S. is changing the way we move and think about our need for movement. Her 10 books, including the groundbreaking Move Your DNA, have been translated into more than 16 languages worldwide.Bowman teaches movement globally and speaks about sedentarism and movement ecology to academic and scientific audiences such as the Ancestral Health Summit and the Institute for Human and Machine Cognition. Her work is regularly featured in diverse media such as the Today Show, CBC Radio One, the Seattle Times, NPR, the Joe Rogan Experience, and Good Housekeeping. One of Maria Shriver's "Architects of Change" and an America Walks "Woman of the Walking Movement," Bowman consults on educational and living space design to encourage movement-rich habitats. She has worked with companies like Patagonia, Nike, and Google as well as a wide range of non-profits and other communities to create greater access to her "move more, move more body parts, move more for what you need" message. Her movement education company, Nutritious Movement, is based in Washington State, where she lives with her family.