Lightness of Being: (40 Full-Color Affirmation Cards) (Cards)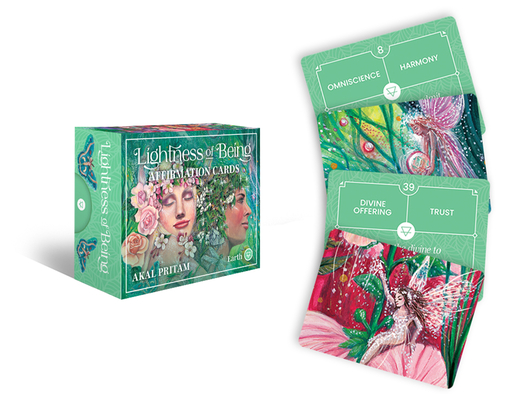 $12.95

Usually Available/Ships in 5-7 Business Days
Description
---
You know how to live with lightness and joy in your heart; you know how to love life.
 
By not taking life too seriously, and being grounded and present, your inner serenity-lightness of being will lighten and activate truth and peace within others. This card deck is about activating seven sacred-human embodiments: divine will, omniscience, universal love, epiphany, forgiveness, truth, and grace, and then living as a divine offering, embodying a love of life itself.
 
This deck is made up of one stunning hand-painted picture (featuring two beautiful nature-spirited women in a warm embrace) divided into forty cards labeled 1–40. Complete the puzzle intuitively with the images alone, or lay them out in order with numbers facing up, then turn the cards over to reveal the full picture. The images on each of the cards are symbolic and work on their own when viewed separately from the full picture.
 
Choose cards as personally guided, either from the full picture or simply draw from a shuffled deck.

 
About the Author
---
Akal Pritam's life as a dharma artist began in early childhood, when she displayed a natural talent for communication. She has worked as a fashion art director internationally. In the mid-1990s, Akal moved into publishing and created many internationally successful books. At this time, Akal completely changed her approach to life: practicing yoga and meditation, studying metaphysics, and healing with whole foods. Akal and her life partner created an organic, raw food, vegan café and wellbeing store that attracted many souls wanting to self-nurture and reclaim their health. Akal created ranges of raw vegan food and chocolate, aromatherapy, herbal teas, chai, and unique gifts, and also ran workshops on plant-based living, self-healing practices, aromatherapy, and the chakras.
 
Akal is now focused on creating unique books, gift products, and art that is food for the soul. Her work resonates with a diverse range of individuals and inspires them to self-love and grow the light of their own soul. Visit her Instagram @akalpritam.