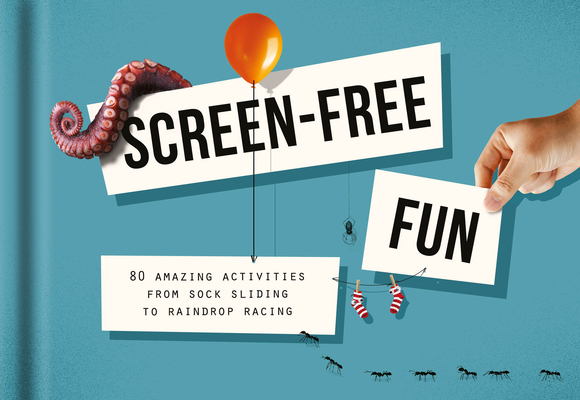 Description
---
A collection of 80 imaginative games and activities designed to engage and entertain without a screen.

Whether we're big or small, it can be hard to get away from our screens. Most children spend between five and seven hours a day looking at some form of screen - and most grown-ups spend twice as much time. Screens promise endless entertainment, but the more time we spend with them, the more we lose sight of all that is strange, fascinating, and delightful in the world around us. Even when we're stuck indoors, there are infinite possibilities for banishing boredom and having fun so long as we use our imagination. All we need are a few helpful suggestions....

Screen-Free Fun contains 80 of the weirdest and most wonderful activities children can do at home, all without using a screen. Rather than scrolling or tapping, you'll be invited to draw, make, write, invent, dress up, hide, seek, and discover. You can paint like Picasso or meditate like Buddha; become an indoor entomologist or a home Olympian; make up a new language or a mythical creature; and even find the fun in some household chores.

Inventive and irreverent, this book is the perfect companion for humdrum days and wet weekends. It is a compendium of the world's strangest, silliest and most stimulating activities.
About the Author
---
The School of Life is a global organization helping people lead more fulfilled lives. Through our range of books, gifts and stationery we aim to prompt more thoughtful natures and help everyone to find fulfillment. The School of Life is a resource for exploring self-knowledge, relationships, work, socializing, finding calm, and enjoying culture through content, community, and conversation. You can find us online, in stores and in welcoming spaces around the world offering classes, events, and one-to-one therapy sessions. The School of Life is a rapidly growing global brand, with over 6 million YouTube subscribers, 389,000 Facebook followers, 239,000 Instagram followers and 163,000 Twitter followers. The School of Life Press brings together the thinking and ideas of the School of Life creative team under the direction of series editor, Alain de Botton. Their books share a coherent, curated message that speaks with one voice: calm, reassuring, and sane.
Screen-Free Fun: 80 Amazing Activities from Sock Sliding to Raindrop Racing (Hardcover)