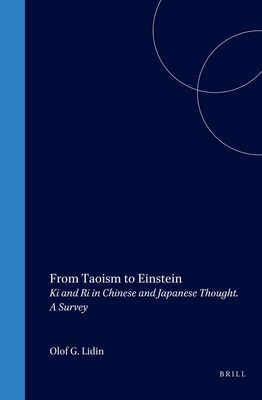 $153.40
Email or call for price.
Description
---
In this remarkable and inspirational study, the author takes the view that ki can profitably be compared with European philosophy: in China, the ki thread appears as an original 'primal ki' (genki), which is the source of all things and affairs; in Europe, the thinking goes in the opposite direction.
About the Author
---
Olof Lidin, Professor Emeritus, University of Copenhagen, and former head of the university's department of Japanese Studies, considers From Taoism to Einstein as the culmination of a life's research and study in this field. He is also well known for his work on Ogyu Sorai, the Tokugawa Philosopher, and has published widely on the subject, including The Life of Ogyu Sorai - A Tokugawa Philosopher and Ogyu Sorai's Journey to Kai in 1706. More recently, he published Tanegashima - The Arrival of Europe in Japan. He was President of the European Association of Japanese Studies (1982-85) and in 1996 was honoured with a Festschrift, entitled Florilegium Japonicum. Studies presented to Olof G.Lidin on the Occasion of His 70th Birthday. He continues to lecture regularly in Europe, the United States and Japan.
From Taoism to Einstein: KI and Ri in Chinese and Japanese Thought. a Survey (Hardcover)