Shimmer (Paperback)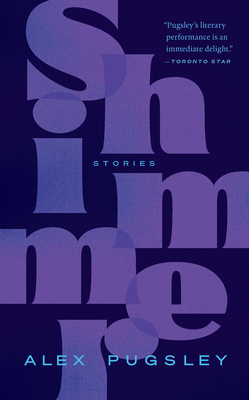 Description
---
Nominated for the 2023 ReLit Award for Short Fiction

In ten vividly told stories, Shimmer follows characters through relationships, within social norms, and across boundaries of all kinds as they shimmer into and out of each other's lives.
Outside a 7-Eleven, teen boys Veeper and Wendell try to decide what to do with their night, though the thought of the rest of their lives doesn't seem to have occurred to them. In Laurel Canyon, two movie stars try to decide if the affair they're having might mean they like each other. When Byron, trying to figure out the chords of a song he likes, posts a question on a guitar website, he ends up meeting Jessica as well, a woman with her own difficult music. And when the snide and sharp-tongued Twyla agrees to try therapy, not even she would have imagined the results.
About the Author
---
Alex Pugsley is a writer and filmmaker originally from Nova Scotia. His fiction has appeared in Brick, The Walrus, McSweeney's Internet Tendency, and Best Canadian Stories, among other publications. His debut novel, Aubrey McKee, was just published by Biblioasis.