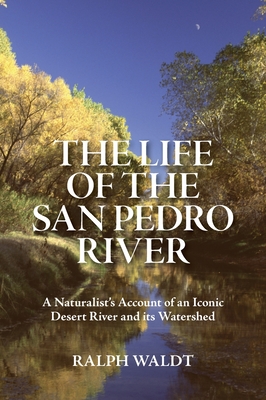 $80.00

Usually Available/Ships in 5-7 Business Days
Description
---
The San Pedro River flows through a celebrated landscape rich in legend and human history, but the river's greatest distinction is the incredibly rich array of flora and fauna that graces its watershed. Birdwatchers consider this small corner of Arizona to be one of their Meccas and nearly half of our country's birds have been recorded here. A greater diversity of mammals resides here than in any other similar-sized inland landscape in the United States, and an amazing assortment of reptiles call the San Pedro Watershed home. The native flora of the area is dauntingly complex. The river and its watershed form an ecological treasure of international importance; for in terms of their flora and fauna, they are beyond comparison.
Many books have been written about Southeastern Arizona and the San Pedro River, some by historians, by agency personnel, or journalists. This one is different. This is a book written by a naturalist-someone who studies nature and teaches others in the field. Within its pages, I hope to offer the reader something as rare as the river itself-tales of the land and its life written from the perspective of a man whose knowledge of nature has been attained by walking-a lot of walking.
I have seen many places that I loved fall to the pressures exerted by our burgeoning population. Those observations are what fueled my desire to write about the San Pedro River and its watershed. As I write, threats hover over this grand and irreplaceable landscape that could kill the river and bring many other damaging changes to this exceptional living remnant of our nation's wild heritage.
This book was written to help give voice to the voiceless. As the daily goings-on of mankind alter our planet, only one of the earth's millions of species is capable of saying anything about it. A mountain cannot speak to us when we level its forests or mine it into oblivion. A river cannot lament its concerns to humanity when we steal its waters. Wild animals cannot air their needs and losses to us when we destroy their habitats.
My objective in offering this modest work to the world is to share, to teach, and to help build respect, gratitude, and reverence for the world of nature, a world that we are inseparable from. My hope is that the readers of this book may learn why this is a remarkable river-and an incredible landscape-that all of us should cherish and protect. Accompany me on a literal walk or two through these pages to discover some of life's infinite beauty and wonder. Life defines our very existence-not just human life, but the interdependent web of life that sustains all of us. Life fires the mind and feeds the soul. May it always shine in the waters of the San Pedro River.
The Life of the San Pedro River: A Naturalist's Account of an Iconic Desert River and its Watershed (Hardcover)