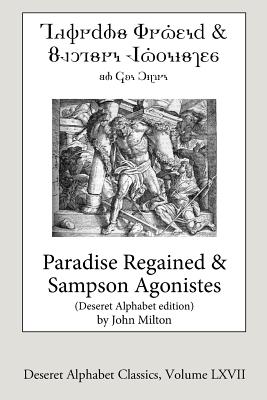 $7.82
Usually Available/Ships in 5-7 Business Days
This book is non-returnable.
Description
---
John Milton (1608-1674) was an English poet, polemicist, man of letters, and civil servant for the Commonwealth of England under Oliver Cromwell. He was blind from about 1654 on; many of his greatest works were written using scribes. Milton was fluent in numerous languages and is considered one of the greatest and most influential writers in English literature.
Paradise Lost, originally published 1667 but revised and republished in 1674, is a retelling of sacred history in the form of a classical epic poem. It is particularly influenced by Virgil's Aeneid. It recounts Satan's rebellion against God, his expulsion to Hell, the creation of the world, the Fall, and the exile from Eden of Adam and Eve. Paradise Lost is generally considered the great English-language epic.
This book is in the Deseret Alphabet, a phonetic alphabet for writing English developed in the mid-19th century at the University of Deseret (now the University of Utah).
Paradise Regained and Samson Agonistes (Deseret Alphabet Edition) (Paperback)