The Highly Sensitive Person's Guide to Dealing with Toxic People: How to Reclaim Your Power from Narcissists and Other Manipulators (Paperback)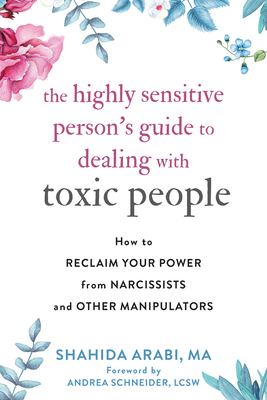 $18.95

Usually Available/Ships in 5-7 Business Days
Description
---
Reclaim your power from narcissists, manipulators, and other toxic people.
If you're a highly sensitive person, or identify as an "empath," you may feel easily overwhelmed by the world around you, suffer from "people-pleasing," experience extreme anxiety or stress in times of conflict, or even take on the emotions of others. Due to your naturally giving nature, you may also be a target for narcissists and self-centered individuals who seek to exploit others for their own gain. So, how can you protect yourself?
In The Highly Sensitive Person's Survival Guide to Dealing with Toxic People, you'll learn evidence-based skills grounded in cognitive-behavioral therapy (CBT) and dialectical behavior therapy (DBT) to help you recognize and shut down the common manipulation tactics used by toxic people, such as gaslighting, stonewalling, projection, covert put-downs, and love bombing. You'll also discover targeted tips to protect yourself from the five main types of toxic people:
Garden-variety boundary-steppers
Crazymakers and attention-seekers
Emotional vampires
Narcissists
Sociopaths and psychopaths
Finally, you'll learn how to heal from toxic or narcissistic abuse, and find strategies for establishing healthy boundaries and a strong sense of self. If you're an HSP who is ready to take a stand against the toxic people in your life, this book has everything you need to survive and thrive.
About the Author
---
Shahida Arabi, MA, is a summa cum laude graduate of Columbia University, and best-selling author of three books, including Becoming the Narcissist's Nightmare and Power. Her work has been featured on Psychology Today, Psych Central, Salon, HuffPost, Bustle, the National Domestic Violence Hotline, the New York Daily News, Thought Catalog, and VICE Media Group. Find out more about her at www.shahidaarabi.com. Foreword writer Andrea Schneider, LCSW, is a licensed clinical social worker in the San Francisco Bay Area, and has over twenty years of experience counseling thousands of individuals and families. She specializes in narcissistic abuse recovery, maternal wellness, trauma recovery, special needs parenting, grief, and loss. You can find out more about her at www.andreaschneiderlcsw.com.