Hope Never Dies: An Obama Biden Mystery (Obama Biden Mysteries #1) (Paperback)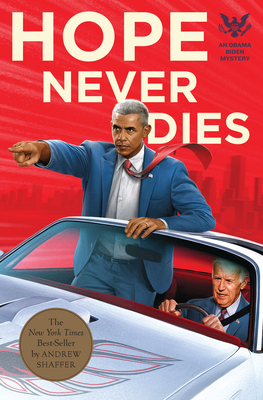 Other Books in Series
This is book number 1 in the Obama Biden Mysteries series.
Description
---
The New York Times Best Seller

"[Hope Never Dies is] an escapist fantasy that will likely appeal to liberals pining for the previous administration, longing for the Obama-Biden team to emerge from political retirement as action heroes."—Alexandra Alter, New York Times

Vice President Joe Biden and President Barack Obama team up in this high-stakes thriller that combines a mystery worthy of Watson and Holmes with the laugh-out-loud bromantic chemistry of Lethal Weapon's Murtaugh and Riggs.
 
Vice President Joe Biden is fresh out of the Obama White House and feeling adrift when his favorite railroad conductor dies in a suspicious accident, leaving behind an ailing wife and a trail of clues. To unravel the mystery, "Amtrak Joe" re-teams with the only man he's ever fully trusted: the 44th president of the United States. Together they'll plumb the darkest corners of Delaware, traveling from cheap motels to biker bars and beyond, as they uncover the sinister forces advancing America's opioid epidemic.

Part noir thriller and part bromance, Hope Never Dies is essentially the first published work of Obama/Biden fiction—and a cathartic read for anyone distressed by the current state of affairs.
About the Author
---
Andrew Shaffer is the New York Times best-selling author of more than a dozen books, including the national best seller Hope Never Dies: An Obama Biden Mystery. He lives with his wife, the novelist Tiffany Reisz, in Kentucky.
Praise For…
---
An Official Summer Read of Publishers Weekly and The Interrobang 
A 2018 Goodreads Choice Award Finalist

"[Hope Never Dies is] a roughly 300-page work of political fanfiction, an escapist fantasy that will likely appeal to liberals pining for the previous administration, longing for the Obama-Biden team to emerge from political retirement as action heroes. But it's also at times a surprisingly earnest story about estranged friends who are reunited under strange circumstances."—Alexandra Alter, New York Times

"It's a giddy premise, a bit of Resistance wish-fulfillment for those who'd like to see Biden and Obama trading one-liners and cracking skulls."—New Yorker

"While readers are sure to get a kick out of the codenames and inside jokes used playfully throughout, Hope Never Dies is an intriguing saga that doesn't sacrifice momentum for winks and nods."—Entertainment Weekly
 
"It's easy to imagine that if these fist-bumping brothers were ever to become a modern Sherlock and Watson, the world might be a better, more interesting place."—USA Today, ★★★ out of four 
 
"Obama and Biden are the ultimate crime-fighting team in Hope Never Dies."—Washington Post
 
"An ambitious and completely successful novel."—Booklist
 
"Deeply weird and very funny."—The Wall Street Journal
​ 
"Step aside Holmes and Watson; back off Poirot and Hastings. A new pair of amateur sleuths are hitting town this month: Barack Obama and Joe Biden."—The Guardian (UK) 
 
"Shaffer has sublimated liberal grief, nostalgia, and fantasy into a sort of allegorical potboiler."—Slate

"A novel nostalgic for a feel-good moment in US politics—one that now seems far in the past."—Quartz 
 
"Hope Never Dies is the lighthearted antidote for our tense political times, the escapist summer book we all need. Once you read it, you'll want more."—Brooklyn Rail
 
"[Hope Never Dies] is a  fun lark, and the world could use more of that these days."—Florida Times-Union
 
"Hope Never Dies has humor and heart as well as plenty of adventure [and] surprisingly nuanced and tender takes on aging, masculinity, jealousy, and life after eight years in power."—Santa Fe New Mexican
 
"[An] entertaining, offbeat whodunit...Fans of Carl Hiaasen's comic crime novels will have fun."—Publishers Weekly
 
"The cool, cerebral ex-POTUS is a reasonable stand-in for Sherlock Holmes, and his ex-VPOTUS, by turns appealingly modest and laughably self-satisfied, is in some ways a better Watson than the good doctor himself."—Kirkus
 
"The beats of dialogue, the in-jokes, and the quips...make the book an entertaining light read."—Lexington Herald-Leader
 
"Probably the most unlikely pair of detectives I have ever seen."—Rincey Abraham, Book Riot
Coverage from NPR
Explore Booksellers Swag
Support Explore by buying our swag.