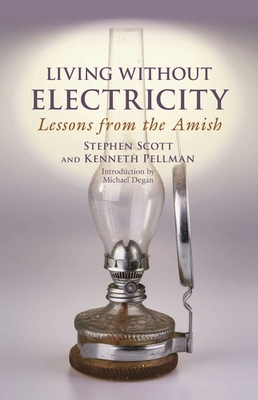 $14.99
Usually Available/Ships in 5-7 Business Days
Description
---
In a modern world where technology is taking over our lives, could we lead an essential, simple life without electricity? How can we get by without computers, power tools, phones, or even basics such as electric lights and appliances? The answers lie in Amish communities and other Old Order groups in the United States, Canada, and Mexico that have been living lives off the grid while still affording to be self-sufficient for countless years.

Living Without Electricity examines the Amish response to technology and shows us why and how they live without inventions other people take for granted. Taking lessons from the Amish, learn how to light a room without electricity, keep warm without centralized heating, get around without a car, communicate without a phone, and others. In addition, take Amish instruction on how to cook and store food, pump water, wash clothes, and even run farms and businesses, all while off the electric grid. Reconsider the basic necessities of your life, and you might decide to orientate yourself toward a self-sufficient life without electricity.
About the Author
---
Stephen Scott became interested in the Plain People while a teenager in southwestern Ohio. He moved to Lancaster, Pennsylvania, in 1969 and became a member of the Old Order River Brethren. His books include Plain Buggies, Why Do They Dress That Way?, and The Amish Wedding. He lived in Columbia, Pennsylvania.

Kenneth Pellman, along with his wife, Rachel, is the co-author of The World of Amish Quilts, A Treasury of Amish Quilts, and A Treasury of Mennonite Quilts. He lives in Lancaster, Pennsylvania, with his wife and two sons.
Living Without Electricity: Lessons from the Amish (Paperback)