Recipes and Shit: With Love from My Kitchen. Make Your Own Cookbook. (Paperback)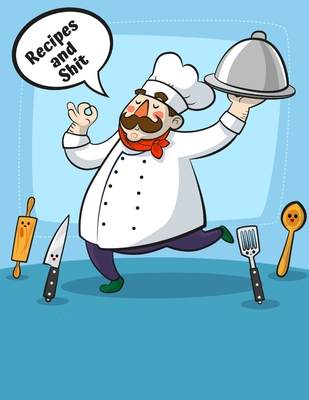 $7.12
Special Order - Subject to availability, call or email to order
Description
---
Universal Note Taking System (Recipe Book)
Are you looking for a present for a person fascinated by cooking? A blank recipe diary, a stylish and functional cookbook for DIY, cooking enthusiasts and more.
Advantages of the cookbook:
It allows you to collect the most tested recipes in one place
Is conducive to cooking lessons for beginners
Saves time
It's always at hand (or at least it should be)
It gives you the opportunity to develop a base of basic recipes

It is the basis for modification
In time, it becomes the "main command center" because you can place your signature dishes in it, as well as those that you cook for especially occasions, holidays or parties.

This empty recipe journal is a great way to pass on valuable family recipes. A great recipe book where you can write and record all your cooking secrets.Your own recipes are a perfect gift for a perfect housewife or a talented chef.

Such a gift is the highest expression of appreciation for the culinary skills of grandmother or grandfather.

Inside there is a place for all recipes - starters, soups, main dishes and desserts.

Each card was divided into clearly explained sections with a place to list the ingredients, describe the preparation method and provide any comments. This gift is unique because of the possibility of personalization.

The whole family benefits from such a gift

Scroll up and BUY NOW