Going Remote: A Teacher's Journey (Paperback)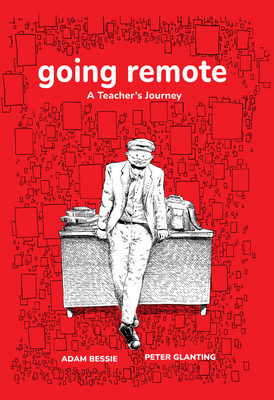 $18.95

Usually Available/Ships in 5-7 Business Days
Description
---
A searingly honest graphic memoir dispatch from a community college professor who cares deeply for his students and family while also combating personal health issues from the frontlines of public education during the pandemic.

Going Remote is a joint production of The Censored Press and Seven Stories Press.

With Peter Glanting's powerful illustrations, author Adam Bessie, an English professor and graphic essayist, uses the unique historical moment of the COVID-19 pandemic as a catalyst to explore the existing inequalities and student struggles that plague the public education system. This graphic memoir chronicles the reverberations from the onset of the pandemic in 2020 when students and educators left their physical classrooms for remote learning. As a professor at a community college, Bessie shows how despite these challenges, teachers work tirelessly to create a more equitable educational system by responding to mental health issues and student needs.

From the Black Lives Matter protests to fielding distressed emails from students to considering the future of his own career, Going Remote also tells the personal story of Bessie's cancer diagnosis and treatment during the pandemic. A fusion of memoir, meditation, and scholarship, Going Remote is a powerful account of a crisis moment in educational history demonstrating both personal and societal changes.

Includes back matter revealing the literary and theoretical touchpoints that inform Going Remote (works by Octavia Butler, Neil Postman, Jaron Lanier, and Diane Ravitch).
About the Author
---
ADAM BESSIE is a community college English professor in the San Francisco Bay Area and writes comics which have been published in many national outlets, including the New Yorker, the Atlantic, the Boston Globe, and the Los Angeles Times. He won the New York Association of Black Journalists 2018 Award for the graphic essay "Betsy Devos' 'School Choice' Movement Isn't Social Justice. It's a Return to Segregation" (with Erik Thurman). He lives on the site of a former dynamite factory with his wife and son on the San Pablo Bay.

PETER GLANTING is an illustrator and product designer. He also claims he was a baron in "the old country," but people are haters and they don't often believe him (#notfair). He likes sock puppets and dogs with bushy eyebrows. Peter holds a B.A. in English from the University of California at Davis, and an M.F.A. in Comics from the California College of the Arts. He lives and works in Portland, Oregon.

Praise For…
---
"This is comics at the highest level: beautiful, profound, and full of heart."
—Justin Hall, editor of No Straight Lines: Four Decades of Queer Comics and Chair MFA in Comics at California College of the Arts

"This wonderful book challenges readers concretely to visualize and think through possible futures... a foothold for anyone trying to understand not only teaching and the pandemic, but our place in the world as caring human beings."
—Jay Gillen, author of Educating for Insurgency: The Roles of Young People in Schools of Poverty and The Power in The Room: Radical Education Through Youth Organizing and Employment

*"Bessie's debut graphic memoir of teaching at a community college during the pandemic while undergoing treatment for cancer swells with a determined optimism even while being threaded with dystopian references. Bessie believes in the community college system as a hub of diversity crucial to class mobility. In January 2020, he steps onto his San Francisco Bay Area campus after an eight-month sabbatical; he's been working on a memoir about his decade-long game of cat and mouse with a brain tumor. He embraces the institution's smells of 'strawberry vape,' buzzy with student's collective energy. But by March, 'We are subjects in 'The Great Zoom-School Experiment.' ' He plays amateur IT guy and social worker, and teaches to 'little black boxes' with muted mics. His students, many of them already marginalized, drop out or face a litany of crises. Bessie's suspicious of techie solutions—'Free-market technocrats see this as an opportunity to accelerate their agenda to monetize public education'—and draws parallels to the science fiction literature on his syllabus. Glanting's drawings are thick with shadow and cyborgian representations of a world isolated by multiple diseases. But as a teacher, Bessie's idealism holds through, and he ends on an open-ended note—the pandemic still unfurling, his tumor held at bay by an experimental medication. As he writes: 'Right now, we're here,' and that is fragile and poignant enough."
—Publishers Weekly, starred review

"On the surface, Going Remote is another addition to the COVID-19 memoir scene, chronicling one community college professor's experiences teaching remotely during the first two years of the pandemic. There is more here, however. From Bessie's ongoing experiences of living with cancer, to making sure his son knows the importance of the Black Lives Matter movement, he and co-creator Glanting use the medium to weave together a complex view of life during the last two years. Life isn't made up of silos and easily separated parts of oneself after all. While the features of remote education play a major role here (Zoom windows are a kind of comic, aren't they?), the annoyances of technology are less important than what going remote does to the ability to build community and to succeed, particularly for students who are fighting against the flow of an inequitable system. For the philosophically inclined, there is much to enjoy here, and end notes are included to aid in that way of reading. For those who enjoy the process of creating comics, an interview with the creators closing out the book will be of great interest."
—Booklist

"Going Remote: A Teacher's Journey is. . . at its best when Bessie is sharing his views and feelings about public education and the power of community. This book might only be a chronicle of one teacher's attempts to keep his class together during the COVID pandemic, but it clearly reflects the experiences of thousands and thousands of other teachers waging similar battles across the country, and around the globe." —KQED

"Going Remote: A Teacher's Journey, the debut graphic memoir by Bessie, along with the artist Peter Glanting, which offers a surreal, often grim take on the pandemic and its effects on both Bessie and his students. The book also bemoans the 'diaspora' that the pandemic brought forth, concluding that while it didn't create 'inequality, standardization and corporatization' in public education, it made them more ;painfully visible' than ever. So far the book is garnering lavish praise: Publishers Weekly gave it a coveted 'starred' review, calling it 'poignant' and . . . named it one of Spring 2023's Top 10 graphic novels and adult comics." —Greg Toppo, The74