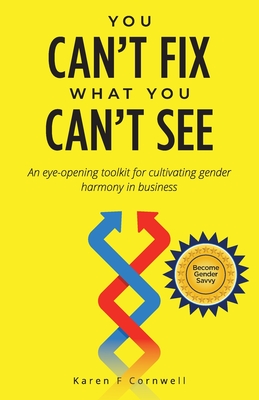 $20.46
Usually Available/Ships in 5-7 Business Days
This book is non-returnable.
Description
---
In the past century, women have gained the right to own land, to vote, to have equal access to job listings, to purchase the birth control pill, to get a credit card in their own name, and to fight in combat. However, one thing has remained unchanged: our unequal workplace. But why are so many people blind to the issue?In You Can't Fix What You Can't See, tech guru Karen Cornwell offers a fascinating narrative that explains how we got here and why it's invisible to some. After spending many years in the world of technology, she made a stark discovery: men simply don't "see" the constant battle that women face each and every day. If they did, Cornwell asserts, they would be determined to help fix the inequality. You Can't Fix What You Can't See provides a framework to understand some of the key differences between the way men and women think to bring new meaning to your experiences (both past and present). It will give you the power to "see" differently, to interpret actions, behavior, and conversations through a new and more powerful lens. For business owners, it explains how to leverage diversity to drive innovation, boost engagement, and business performance. Find the tools and motivation you need to pursue change so that our next generation inherits a better, more inclusive workplace. Reviews (on the back cover): "A fresh, insightful look at an increasingly important topic. The information conveyed in this highly readable book taught me a lot I didn't know, including some things I knew perfectly well before I read the book -- except, it turns out, I was wrong." -- Steve Kerr, Sr. Advisor to Goldman Sachs, former Chief Learning Officer for Goldman and GE."Karen asks: Why, after all this time and effort, is it still so hard for women to lead business? The answer pulls a thread that unravels a giant knot of global business culture. Gender relations is just a part. Using her own story, and dogged research and thinking, Cornwell gets us to a better answer -- which makes this a very valuable book." -- Art Kleiner, editor-in-chief of PwC's management magazine strategy+business, and coauthor of The Wise Advocate"Gender equity is essential for business success - and in You Can't Fix What You Can't See, Karen Cornwell provides a powerful toolkit to achieve it." - Joanne Lipman, Author of That's What She Said, CNBC Contributor and former Editor in Chief of USA TodayYou Can't Fix What You Can't See illuminates the dynamics of gender inside companies to help us better understand what's really going on. More importantly, it offers tools to cultivate greater gender harmony in business. -- Dr. Tasha Eurich, New York Times best-selling author of Insight.
You Can't Fix What You Can't See: An Eye-Opening Toolkit to Cultivate Gender Harmony in Business (Paperback)