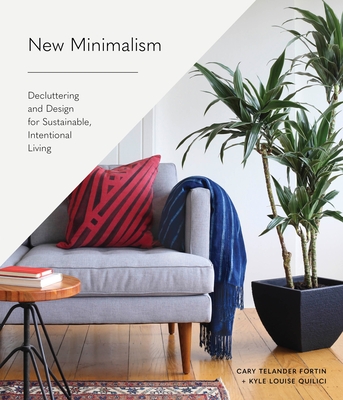 Description
---
The decluttering craze meets a passion for sustainable living and interior design in this gorgeous new book for readers of The Life-Changing Magic of Tidying Up

This book promises an opportunity for self-reflection and lasting change, by getting to the bottom of why we've accumulated too much stuff in the first place, therefore allowing us to transform our lives. Professional decluttering and design team Cary and Kyle of New Minimalism will take you through every step, from assessing your emotional relationship to your stuff to decluttering your home to then turning it into a beautifully designed space that feels clean and tidy without feeling sparse or prescriptive. And all of this without filling up a landfill—you'll find resources and strategies to donate and reuse your stuff so you don't have to feel guilty about getting rid of it!
About the Author
---
CARY TELANDER FORTIN specializes in the psychology behind decision-making and attachments, as well as connecting with new organizations who can benefit from clients' donations. She graduated with honors from Dartmouth College with a degree in psychology.

KYLE LOUISE QUILICI specializes in creating beautiful spaces using the items clients already own and love. She graduated from Boston College with a degree in organizational behavior, studied interior design at Parsons School of Design in New York and earned her certificate in sustainable design from UC Berkeley's Extension.  

Together as NEW MINIMALISM, Cary and Kyle have conducted hundreds of decluttering sessions and as a result they have donated over 10,675 cubic feet of clothing, art supplies, furniture, and decor to local charities; that's the equivalent of over 427 bath tubs.
Praise For…
---
"Part therapy and part interior design, it's just the thing to dive into as we seek inspiration for calm and order in the new year."
—San Francisco Chronicle

"This is minimalism for the rest of us…[a] more practical take on the less-is-more lifestyle [that is] more about ending the cycle of "busy" than creating a perfect house."
—The Washington Post

"Fortin, who holds a degree in psychology, and Quilici, who studied interior design, have developed a system based on self-examination that is designed to aid those endeavoring to eliminate too many possessions. ... Using these guidelines may finally provide the means necessary for those struggling to live a clutter-free life."
—Library Journal

"Cary Telander Fortin and Kyle Louise Quilici—decluttering professionals with backgrounds in psychology and interior design—delve into why we accumulate so many things, and they offer practical, easy-to-adapt strategies for decluttering and changing habits."
—Houzz

"The authors of New Minimalism reveal how your emotional style relates to the possessions you keep—and how you can finally get past it."
—Oprah

"With an emphasis on conservation and meaningful reuse, Quilici and Fortin share their fuss-free tips for a stylish, streamlined home."
—Sunset Magazine

"Clean up your act in your home's trickiest spots with these smart strategies."
—Rachael Ray Every Day

"Authors Cary Telander Fortin and Kyle Louise Quilici can help you get your house in streamlined, stylish order."
—The Florida Times-Union


New Minimalism: Decluttering and Design for Sustainable, Intentional Living (Hardcover)