The Freekeh Cookbook: Healthy, Delicious, Easy-to-Prepare Meals with America's Hottest Grain (Hardcover)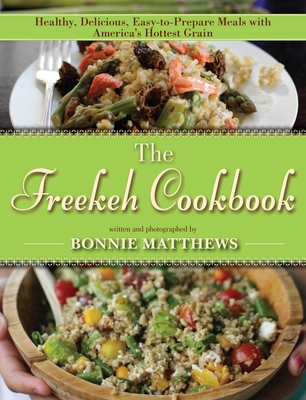 $17.95
Special Order - Subject to availability, call or email to order
Description
---
Freekeh is a tasty, versatile grain that's packed full of fiber and protein. Freekeh was created by accident nearly 2,000 years ago when a Middle Eastern village was attacked and their crop of young green wheat was set ablaze. Most folks would sulk over their misfortune, but the crafty villagers rubbed off the chaff, cooked it up, and the result was freekeh! With 8 grams of protein per serving, it is quickly gaining popularity in America as a healthy grain that tastes great and keeps you fuller for longer, aiding in weight loss.

This beautifully photographed cookbook showcases dozens of ways to incorporate freekeh into every meal of the day. Recipes include:

Almond Cookies with Cocoa Nibs
Cardamom Freekeh Bars
Curried Freekeh Crackers
Freekeh 'n Cheese
Moroccan lamb with Dried Fruits and Nuts
Pistachio Encrusted Shrimp with tamari Frekeh
Raspberry Freekeh Pancakes
Roasted Pumpkin with Chicken Apple Sausage and Kale
Stuffed Heirloom Tomatoes
Tandoor Chicken with Curried Eggplant Freekeh
And More!

Skyhorse Publishing, along with our Good Books and Arcade imprints, is proud to publish a broad range of cookbooks, including books on juicing, grilling, baking, frying, home brewing and winemaking, slow cookers, and cast iron cooking. We've been successful with books on gluten-free cooking, vegetarian and vegan cooking, paleo, raw foods, and more. Our list includes French cooking, Swedish cooking, Austrian and German cooking, Cajun cooking, as well as books on jerky, canning and preserving, peanut butter, meatballs, oil and vinegar, bone broth, and more. While not every title we publish becomes a New York Times bestseller or a national bestseller, we are committed to books on subjects that are sometimes overlooked and to authors whose work might not otherwise find a home.
About the Author
---
Bonnie Matthews is a food photographer, cookbook author, and illustrator. When Bonnie is not creating recipes or photographing food, she's drawing and painting for children's books and magazines. She's illustrated 25 books for children, including the award-winning "What To Do" series. In her spare time, she escapes to tiny islands and snorkels to get inspiration for the characters she draws. She is also the author of The Freekeh Cookbook, Hot & Hip Grilling Secrets, Hot & Hip Healthy Gluten-Free Cooking, and The Eat Your Way Healthy at Trader Joe's Cookbook. She lives in Costa Mesa, California