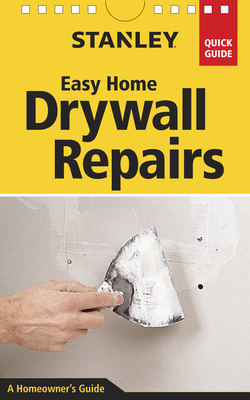 Email or call for price
Hard to Find
This book is non-returnable.
Description
---
No more banging your head against the wall. Stanley Quick Guides take the pain and frustration out of home repair. With this handy reference book, Easy Home Drywall Repairs, you will rapidly learn everything you need to know about drywall repair, starting with quick tips on tools, materials, taping, and sanding techniques.
Reliable, professional tips, and instruction for the most common drywall repairs. Author Myron Ferguson, a drywall contractor with over 30 years of experience, shows you everything from filling a small picture hanger hole to closing a window opening. For a complete listing of all the drywall repairs you can accomplish, check out the Table of Contents tab. Here's a quick look at a few of the repairs you can make...
Repairing Stress Cracks
Concealing Fastener Depressions
Repairing Holes in Drywall
Eliminating an Electrical Box
Repairing Water Damage
Corner Bead Repairs

Open a tool box full of essential home improvement tips from the experts at Stanley. The Stanley Quick Guide seriesoffers authoritative, reliable, and concise DIY information empowering even the most unskilled homeowners to take on any home repair project with confidence. Get started now on Drywall, Plumbing, Wiring, and Home Energy Savings projects.
Durable, spiral-bound, highly visual, easy-to-reference books. Simply flip open your laminated book totackle home improvement projects like weather stripping doors and windows; replacing light fixtures; repairing faucets; and closing window openings. The projects vary from the simplest of tasks to the more complex guided by colorful how-to photographs throughout and no-nonsense, professional advice.
Stanley Easy Home Drywall Repairs (Spiral)