The Mediterranean Diet for Beginners: The Complete Guide - 40 Delicious Recipes, 7-Day Diet Meal Plan, and 10 Tips for Success (Paperback)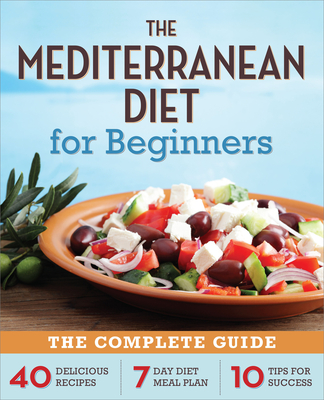 $9.99

Usually Available/Ships in 5-7 Business Days
Description
---
Learn to eat well, and live well, with this true beginner's guide to the Mediterranean diet
Renowned for its health benefits, the Mediterranean diet promotes a cultural tradition that focuses on fresh, natural ingredients for every meal. The disease-fighting antioxidants and omega-3s found in the nutrient-rich foods central to the diet help promote:
Heart health
Weight management
Bone health
Cognitive decline prevention
Reduction of stroke risk
The Mediterranean Diet for Beginners
eases you into new eating habits with an overview of the Mediterranean diet and lifestyle, 40 introductory recipes, and a sample 7-day meal plan: from a breakfast of crisp, refreshing melon and berries in a Summer Day Fruit Salad to the smoky flake and tangy creaminess of Dilly Baked Salmon for dinner with lightly sweet Homemade Biscotti to finish—and that's just a single day!
Other diet cookbooks overwhelm beginners with too much information and too many recipes.
The Mediterranean Diet for Beginners
is the perfect mix of insight and recipes to start your journey to healthier living.
About the Author
---
CALLISTO PUBLISHING is dedicated to producing content that motivates, captivates, and enlightens people of all ages across the globe. Our goal is to identify our customers' needs and offer reliable and compassionate solutions. We are committed to publishing books that make a positive difference in the world.
Praise For…
---
"I enjoy this book because it discusses a concise, well-researched diet that uses foods I already buy on a weekly basis and focuses more on natural foods such as fruits, nuts, and veggies. This diet plan is already helping me reach my goal."—Meistjac

"This book gave a great summary of the Mediterranean diet and 40 excellent recipes! We have been on this diet for 2 weeks and I've made at least half of the recipes. They have all been easy and very good, even my 15-year-old likes most of them! I highly recommend this book if you are trying to learn more about the Mediterranean diet lifestyle."—Meredith B.

"This book is very practical. It provides tips to slowly include changes to create sustainable habits, not only in eating, but in exercise, and other relaxing lifestyle behaviors. My husband even made the comment that this could be an eating plan he could stick to, enjoy and lose weight."—Wanda S.