The History of Fly-Fishing in Fifty Flies (Abridged / Hardcover)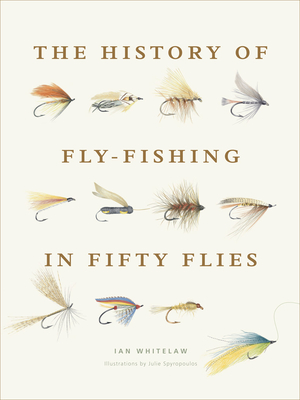 $24.99

Usually Available/Ships in 5-7 Business Days
Description
---
A New York Times bestseller, The History of Fly-Fishing in Fifty Flies recounts the history of a sport that dates back 2,000 years, focusing on milestone flies from the first feathered hook to contemporary patterns using cutting-edge materials.
"A delightful ramble along the stream of fishing history." ―Star Tribune
"Angler Ian Whitelaw charts the development of the sport over the past six centuries." —Wall Street Journal
From the Catskills, the birthplace of American fly-fishing, to the wide rivers of the American West, to overseas fishing hot spots like New Zealand and Iceland, Ian Whitelaw's fly-fishing history book features profiles of the key characters involved, tying tips, photographs and illustrations of the flies, and detailed explanations of the techniques used to fish them.
Among the countless fly patterns created over the centuries, these 50 have been carefully chosen to represent the development not only of the flies themselves but also of fly-fishing techniques—and of rods, lines, and reels. These iconic flies also chart the spread of this addictive sport from its modern origins on the chalk streams of Southern England and the rivers of Scotland to the US, Europe, South America, Australia, and now to nearly every country in the world. Featured here are:
Stewart's Black Spider, Lady Caroline, Royal Coachman
Bass Popper, Adams, Gray Wulff, Muddler Minnow, Tom Thumb
Lefty's Deceiver, Dave's Hopper, Syl's Midge, Ice Cream Cone
Deer Hair Emerger, Bionic Bug, Takayama Sakasa Kebari
And dozens more!
The History of Fly-Fishing in Fifty Flies
is a fascinating companion to the evolution of this captivating sport.
About the Author
---
Ian Whitelaw, a freelance writer based in British Columbia, has been a regular contributor of articles to fly-fishing websites and magazines and has been the contributing editor on more than a dozen books on fishing for major publishers.
Praise For…
---
"A delightful ramble along the stream of fishing history."
— Star Tribune

"This glorious book of lures will get you itching for a new toy, a new boat, a new rod—anything to experience the relaxation of this old hobby."
— Foreword Reviews