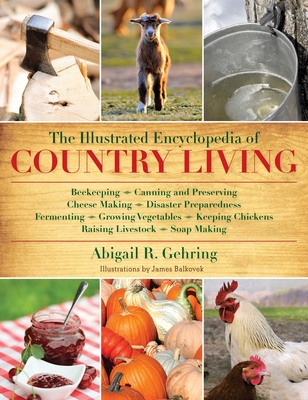 $29.95
Usually Available/Ships in 5-7 Business Days
Description
---
Packed with step-by-step instructions, useful tips, time-honored wisdom, and both illustrations and photographs, this might just be the most comprehensive guide to back to basics living ever published. Fans of Back to Basics, Homesteading, and Self-Sufficiency have been asking for a one-stop resource for all the subjects covered in that successful series. In response, Gehring has compiled a massive, beautifully presented, single volume that covers canning and preserving, keeping chickens, fermenting, soap-making, how to generate your own energy, how to build a log cabin, natural medicine, cheese-making, maple sugaring, farm mechanics, and much, much more.

Whether you own one hundred acres or rent a studio apartment in the city, this book has plenty of ideas to inspire you. Learn how to build a log cabin or how to craft handmade paper; find out how to install a solar panel on your roof or brew your own tea from dried herbs; Cure a ham, bake a loaf of bread, or brew your own beer. This book has something for everyone.
About the Author
---
Abigail R. Gehring is the author or editor of more than a dozen books including Back to Basics, Homesteading, The Illustrated Encyclopedia of Country Living, and Classic Candy. She enjoys writing, gardening, experimenting in the kitchen, and spending time with family. She lives with her husband and two children in an 1800s farmstead they are restoring in Marlboro, Vermont.
Praise For…
---
"This is the best money I've ever spent on a book."

"An absolute essential for your library even if you are an urban dweller."

"A must-have for anyone who is new to country living or just interested in it."

"Great book with enough detail to do most things and get you started on anything else."
The Illustrated Encyclopedia of Country Living: Beekeeping, Canning and Preserving, Cheese Making, Disaster Preparedness, Fermenting, Growing Vegetables, Keeping Chickens, Raising Livestock, Soap Making, and more! (Paperback)