Your Psilocybin Mushroom Companion: An Informative, Easy-to-Use Guide to Understanding Magic Mushrooms—From Tips and Trips to Microdosing and Psychedelic Therapy (Guides to Psychedelics & More) (Paperback)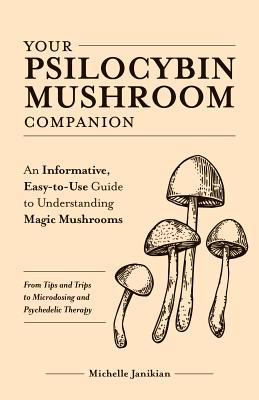 $14.95

Usually Available/Ships in 5-7 Business Days
This book is non-returnable.
Description
---
Learn. Prepare. Trip. Transform! Discover the transformational power of psilocybin mushroom with this all-encompassing guide to harnessing magic mushrooms safely and effectively.

With so much misinformation surrounding magic mushrooms out there, it can be hard to separate fact from fiction. This is where Your Psilocybin Mushroom Companion comes in to help. In this book, you'll find a comprehensive yet friendly guide to everything there is to know about magic mushrooms.

Learn how to plan safe, effective trips with easy-to-follow step-by-step advice. Discover how to train a guide to take care of those on psychedelic voyages, as well as how to access the transformative nature of these experiences. Even learn how microdosing can improve your mood, cognitive functioning, creativity, physical stamina, and more.

With the most up-to-date research, Your Psilocybin Mushroom Companion will put magic mushrooms into perspective, dispel myths and urban legends, and open your mind to the benefits of psychedelic tripping.
About the Author
---
Michelle Janikian is a journalist focused on drug policy, trends, and education. Coming from the legal cannabis industry where she's helped to shift the plant's image from "destroyer of youth" to legitimate medicine and acceptable pastime, her interests naturally led her to the healing powers of psychedelics. She writes a column for Playboy about psychedelics and cannabis, was a staff writer for the cannabis publication Herb, and has also contributed to High Times, Rolling Stone and Teen Vogue .

Fed up with the overprescription of psychiatric drugs in the US and in her own life, she began investigating the medicinal value of outlawed and stigmatized plants and substances, like cannabis, psilocybin, and MDMA. Born in New York City and raised in New Jersey, she's lost too many close friends to depression and the opioid epidemic not to share these stories with the world.

Michelle studied writing and psychology at Sarah Lawrence College before traveling extensively in Latin America and eventually settling down in southern Mexico. Find out more on her website: michellejanikian.com.