Nadia (Paperback)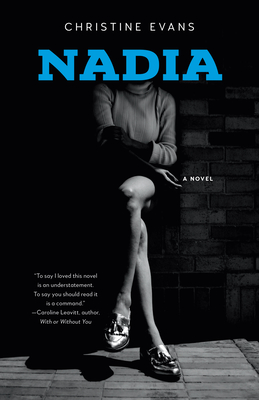 $19.00

Usually Available/Ships in 5-7 Business Days
Description
---
Nadia moves between the competing perspectives of two survivors of the 1990s Balkan Wars who have escaped to London, only to discover that the war has followed them there. Nadia is a young refugee who just wants to forget the past—until Iggy starts temping at her London office. Afraid he may be a sniper from the war she fled, Nadia starts seeing threats everywhere, alongside unsettling visions of her lost girlfriend, Sanja. As her volatile connection with Iggy unravels, Nadia is forced to face the ethically shaky choices she made to escape the war, her survivor guilt, and her disavowed queer sexuality. 

Christine Evans's novel takes us to the recent past of a war that broke apart a European country and that presciently foreshadowed the rise of ethno-nationalism in the West. Tense, suspenseful, and mordantly funny, Nadia tracks the complex ways in which a past marked by political violence can shadow and disrupt the present. 
About the Author
---
Christine Evans writes internationally produced plays, opera libretti, and fiction. Her work has been staged at the Sydney Opera House and many other venues, and her plays are published by Samuel French. Originally from Australia, she is a professor of performing arts at Georgetown University, and lives in Washington, DC.  

 
Praise For…
---
"Shockingly original, stunningly written, Nadia is fierce, funny, and tragic, filled with encroaching dread about a Serbian ex-sniper and a young Bosnian refugee who is so distinctive she should be patented. Like Emily St. John Mandel, the author plants us in a cryptic, dangerous new reality we never doubt for a second. To say I loved this novel is an understatement. To say you should read it is a command."—Caroline Leavitt, author, With or Without You
 

"From its very first sentence, Christine Evans's Nadia sweeps the reader up in a riveting tale of war, survival, love, and trauma. The story is set in London, just after the Balkan Wars, but is less about fighting than about the way any war forces those caught in it to face who they really are, what they believe, and what they will do about it. Nadia is immensely rewarding to read, touching both the intellect and the heart."—Helen Benedict, author, Wolf Season
 

"Christine Evans writes with masterful restraint, achieving a literary debut that is both a page-turner and an exquisite rendering of queer resilience despite the specters of war. Like the quiet after a gunshot, the silences in Nadia crackle with threat. You won't be able to put it down."—Sarah Cypher, author, The Skin and Its Girl
 

"Christine Evans's Nadia is a brilliant meditation on how the forgotten will fight tooth and nail to be remembered, sneak in through the trap doors of our hearts, and border our vision. A master storyteller, Evans bends time and space with the precision of a mystic physicist."—Sabrina Orah Mark, author, Happily: A Personal History with Fairy Tales
 

"A tale thick with trauma and acute with a sense of longing for a home that was erased, this often brutal, sometimes lovely, and always humane novel wades through the refuse of war to elevate those who were blotted out. . . . Nadia is a poetic, unflinching novel that centers on the victims and ripple effects of the Bosnian War."—Foreword Reviews, starred review