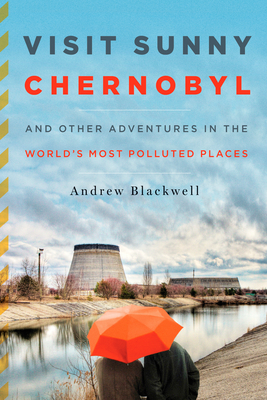 $25.99
Email or call for price.
Description
---
For most of us, traveling means visiting the most beautiful places on Earth—Paris, the Taj Mahal, the Grand Canyon. It's rare to book a plane ticket to visit the lifeless moonscape of Canada's oil sand strip mines, or to seek out the Chinese city of Linfen, legendary as the most polluted in the world. But in Visit Sunny Chernobyl, Andrew Blackwell embraces a different kind of travel, taking a jaunt through the most gruesomely polluted places on Earth.

From the hidden bars and convenience stores of a radioactive wilderness to the sacred but reeking waters of India, Visit Sunny Chernobyl fuses immersive first-person reporting with satire and analysis, making the case that it's time to start appreciating our planet as it is—not as we wish it would be. Irreverent and reflective, the book is a love letter to our biosphere's most tainted, most degraded ecosystems, and a measured consideration of what they mean for us.
Equal parts travelogue, expose, environmental memoir, and faux guidebook, Blackwell careens through a rogue's gallery of environmental disaster areas in search of the worst the world has to offer—and approaches a deeper understanding of what's really happening to our planet in the process.
About the Author
---
ANDREW BLACKWELL is a journalist and filmmaker living in New York City.
Praise For…
---
"Andrew Blackwell is a wonderful tour guide to the least wonderful places on earth. His book is a riveting toxic adventure. But more than just entertaining, the book will teach you a lot about the environment and the future of our increasingly polluted world." —A.J. Jacobs, New York Times bestselling author of The Year of Living Biblically

"With a touch of wry wit and a reporter's keen eye, Andrew Blackwell plays tourist in the centers of environmental destruction and finds sardonic entertainment alongside tragedy. His meticulous observations will make you laugh and weep, and you will get an important education along the way." —David K. Shipler, winner of the Pulitzer Prize and author of Rights at Risk: The Limits of Liberty in Modern America

"I'm a contrarian traveler. I don't obey any airport signs. I love the off season. And, when someone says to avoid a certain place, and almost every time the U.S. State Department issues a travel warning, that destination immediately becomes attractive to me. Visit Sunny Chernobyl is my new favorite guidebook to some places I admit to have visited. As a journalist, as well as a traveler, I consider this is an essential read. It is a very funny -- and very disturbing look at some parts of our world that need to be acknowledged before we take our next trip anywhere else." —Peter Greenberg, Travel Editor for CBS News

"Humor and dry wit lighten a travelogue of the most polluted and ravaged places in the world...With great verve, and without sounding preachy, he exposes the essence and interconnectedness of these environmental problems." —Starred Kirkus Review

"In 'Visit Sunny Chernobyl: And Other Adventures in the World's Most Polluted Places,' Blackwell avoids the trendy tropes of "ecotourism" in favor of the infinitely more interesting world of eco-disaster tourism...[Visit Sunny Chernobyl] is a nuanced understanding of environmental degradation and its affects on those living in contaminated areas...[Blackwell] offers a diligently evenhanded perspective...Blackwell is a smart and often funny writer, who has produced a complex portrait in a genre that typically avoids complexity in favor of outrage." —The Wall Street Journal

"In this lively tour of smog-shrouded cities, clear-cut forests, and the radioactive zone around a failed Soviet reactor, a witty journalist ponders the appeal of ruins and a consumer society's conflicted approach to environmental woes." —The Times-Picayune

"Entertaining, appealing, and thoughtful travelogue covers some of the world's most befouled spots with lively, agile wit... The book...offers an astute critique of how visions of blighted spots create an either/or vision of how to care for the environment and live in the world." —Publishers Weekly (starred review)

"Visit Sunny Chernobyl is hard to categorize--part travelogue, part memoir, part environmental exposé--but it is not hard to praise. It's wonderfully engaging, extremely readable and, yes, remarkably informative...An engagingly honest reflection on travel to some of the world's worst environments by a guide with considerable knowledge to share." —Roni K. Devlin, owner of Literary Life Bookstore & More

"Ghastliness permeates Visit Sunny Chernobyl...[Blackwell] presents vivid descriptions of these wretched places, along with both their polluters and the crusaders who are trying--usually without success--to clean them up" —The New York Times

"Devastatingly hip and brutally relevant." —Booklist, Starred Review
Visit Sunny Chernobyl: And Other Adventures in the World's Most Polluted Places (Hardcover)