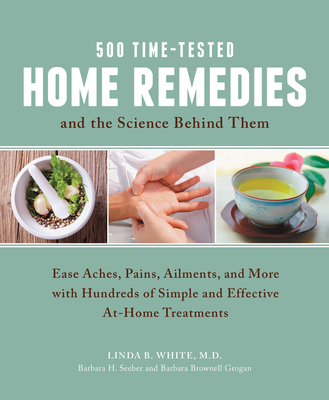 $28.99
Usually Available/Ships in 5-7 Business Days
About the Author
---
Linda B. White, M.D., holds B.S and M.S degrees from Stanford University and an M.D. from the University of California, San Diego. She is the co-author of The Herbal Drugstore and Kids, Herbs, and Health. She served as a medical advisor and contributor to The National Geographic Guide to Medicinal Herbs. Since 2004, Dr. White has been on faculty at Metropolitan State, Denver, in the Integrative Therapeutic Practices Program in the Health Professions Department.
Barbara Brownell Grogan, former editor in chief at National Geographic Books, is also a graduate of the Institute for Integrative Nutrition, in New York City. At National Geographic she grew the health line of publications, including Desk Reference to Nature's Medicine, Body: The Complete Human, Brainworks, and Guide to Medicinal Herbs, and has worked with health and well-being experts including Joe and Terry Graedon, of The People's Pharmacy, among others.
National Geographic editor and award-winning feature writer Barbara H. Seeber is a 30-year veteran of the publishing world. As an editor for National Geographic Books, she helped launch a number of titles in National Geographic's line of health books.
Praise For…
---
"Combine careful sifting of the relevant science, incisive and engaging writing, and a bountiful dose of good sense, and you get 500 Time-Tested Home Remedies and the Science Behind Them. Every family should have a copy of this terrific book, and every family that does will turn to it often."

—David L. Katz, M.D., M.P.H., F.A.C.P.M., F.A.C.P., Director, Yale University Prevention Research Center

 

 

"…Renders excellent advice regarding natural treatments for numerous disorders. This excellent book should be a ready reference to everyone interested in natural healthcare."

—Len Wisneski, M.D., F.A.C.P., Clinical Professor of Medicine at George Washington University Medical Center

 


"The authors of this excellent book coax us toward health and joy with practical remedies and recipes to help us thrive. [They] tease apart the tangle of fact from fiction with no-nonsense, real-world information and deliver just what we wish our doctors would tell us."

—Steven Foster, author, National Geographic's Guide to Medicinal Herbs, and Chairman of the Board of the American Botanical Council
500 Time-Tested Home Remedies and the Science Behind Them: Ease Aches, Pains, Ailments, and More with Hundreds of Simple and Effective At-Home Treatments (Paperback)