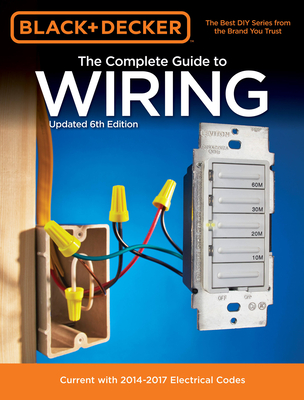 Description
---
It's finally time to do those electrical projects, and to do them to code with BLACK+DECKER: The Complete Guide to Wiring, Updated 6th Edition.
BLACK+DECKER: The Complete Guide to Wiring has led the pack as the United States' best-selling consumer wiring book for more than a decade now, with previous editions selling over one million copies collectively. Simply put, you won't find a more complete and up-to-date book on home wiring. 

This all-inclusive guide features sections on: 
Basic skills, including an overview of electricity and wiring safety 
Wire, cable, and conduits
Boxes and panels
Switches
Receptacles
Foolproof circuit maps for 30 common wiring set-ups
Step-by-step walkthroughs of essential home wiring and electrical repair projects 
Now in its sixth edition, it has most importantly been updated to comply with 2014-2017 National Electric Codes, but in addition, nearly 1,000 accompanying photos offer up-to-date depictions of modern materials and fixtures. Complete with the most current wiring information available today, and presented in our long-renowned, fully illustrated how-to format, BLACK+DECKER: The Complete Guide to Wiring guarantees you'll never be caught in the dark.
About the Author
---
The Editors of Cool Springs Press have produced the highest quality DIY home improvement books for more than 30 years. In conjunction with the experts at BLACK+DECKER they have combined resources to create more than 200 home improvement titles that provide consumers and weekend DIYers with the information they need to get the job done right. Their books have set the standard for do-it-yourself publishing, featuring clear, professional photography and concise step-by-step instructions that get straight to the point. View our full catalog at quartoknows.com or connect with us on Facebook (facebook.com/QuartoHomes), Twitter (@quartohomes), or Pinterest (pinterest.com/QuartoHomes).
Black & Decker The Complete Guide to Wiring, Updated 6th Edition: Current with 2014-2017 Electrical Codes (Black & Decker Complete Guide) (Paperback)