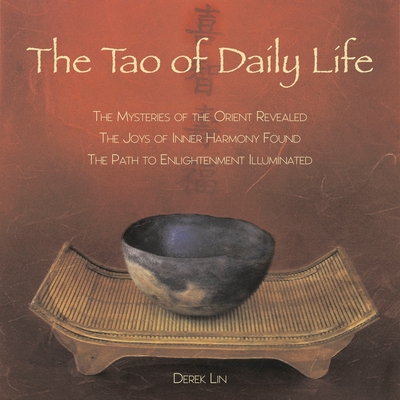 $17.00

Usually Available/Ships in 5-7 Business Days
Description
---
The perfect book for readers who are interested in Taoism and want a little daily inspiration.

The Tao of Daily Life combines ancient Eastern wisdom with practical application-perfect for busy Western readers! Derek Lin, Taoist master and expert in Eastern philosophy, brings his deep knowledge of this time-honored Chinese spiritual thought system into the twenty-first century. "There is one simple reason for the Tao to have survived through the ages intact: it works," writes Lin. "The principles of the Tao are extremely effective when applied to life. The philosophy as a whole is nothing less than a practical, useful guide to living life in a way that is smooth, peaceful, and full of energy." Using the powerful medium of stories and short dharma talks, Lin illuminates the Taoist secrets and engages the reader in their inherent wisdom. As a result, the reader of The Tao of Daily Life will notice certain changes, including:

- being more composed and more at ease in various situations;
- being able to handle challenges and difficulties with less effort and achieving better results;
- experiencing greater power and clarity in all areas of life.

The spiritual journey, as described by Derek Lin, becomes the most worthwhile exploration anyone can take.
About the Author
---
Derek Lin is the award-winning author of The Tao of Daily Life, The Tao of Success, and The Tao of Joy Every Day. He was born in Taiwan and grew up with native fluency in both Chinese and English. This background lets him convey Eastern teachings to Western readers in a way that is clear, simple, and authentic. Lin has utilized his linguistic skills to create a Tao Te Ching translation that has been lauded by critics as setting a new standard for accuracy, and for faithfully capturing the lyrical beauty of the original. He is an active speaker and educator on the Tao Te Ching and the Tao in general.
Praise For…
---
Praise for Derek Lin's books:
 
The Tao of Joy Every Day:
"The book offers up easily digestible wisdom for when you need a quick bit of inspiration. It is a great way to start the day, and it's small size makes it ideal for a nightstand book. It's short but powerful entries are great for settling the mind before bedtime, or on nights when you can't sleep. It's a great addition to any Eastern wisdom book collection."
—The Buddhist Blog
 
The Tao of Daily Life:
Winner: Best Spirituality/ Alternative Science Book (The Coalition of Visionary Resources COVR Awards)
"This book has given me a large amount of understanding and inspiration in my own life. It is well written so that those of any religion (or lack of) can greatly benefit from its wisdom. I would put this book at the top of the list for anyone wanting to help move past the daily trivialities and frustrations that an inhibit our lives. This is also a perfect companion to applying the Tao Te Ching to the daily life."
—Saint Monica's Episcopal Church's Book Corner
 
"The perfect book for readers who are interested in Taoism and want a little daily inspiration. The Tao of Daily Life combines ancient Eastern wisdom with practical application—perfect for busy Western readers!"
—Taoism
 
"There are some wonderful stories here! A top-drawer collection of Taoist teaching stories and commentaries on this ancient path."
—Spirituality and Practice, "Best Spiritual Books of 2007"
 
The Tao of Success:
Winner: Best Spirituality Book (The Coalition of Visionary Resources)
 
"This book represents a melding of the best of eastern and western thinking."
—Bill Tammeus, Faith Matters
 
 "A practical, systematic approach to the ancient and time-honored spiritual learning process. Using the same format that made The Tao of Daily Life a breakout Eastern wisdom bestseller, Lin draws on the power of Taoist stories to illustrate important keys, or lessons.'
—Taoism
The Tao of Daily Life: The Mysteries of the Orient Revealed The Joys of Inner Harmony Found The Path to Enlightenment Illuminated (Paperback)