Mother Reader: Essential Writings on Motherhood (Paperback)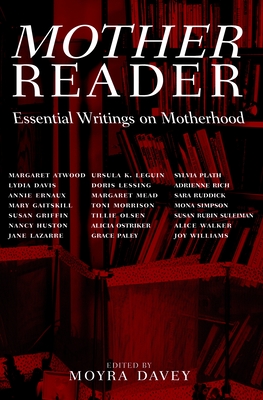 $26.95

Usually Available/Ships in 5-7 Business Days
Description
---
The intersection of motherhood and creative life is explored in these writings on mothering that turn the spotlight from the child to the mother herself. Here, in memoirs, testimonials, diaries, essays, and fiction, mothers describe first-hand the changes brought to their lives by pregnancy, childbirth, and mothering.
Many of the writers articulate difficult and socially unsanctioned maternal anger and ambivalence. In Mother Reader, motherhood is scrutinized for all its painful and illuminating subtleties, and addressed with unconventional wisdom and candor. What emerges is a sense of a community of writers speaking to and about each other out of a common experience, and a compilation of extraordinary literature never before assembled in a single volume.
About the Author
---
MOYRA DAVEY is a photographer whose work has appeared in Harper's, Grand Street, Documents, and The New York Times. Davey has exhibited her work widely in the U.S. and Canada, as well as overseas, and is represented by American Fine Arts Co. in New York.
Praise For…
---
"Fine writers, fine writing, and a vital theme make this an essential book." –Lynne Sharon Schwartz

"The classics are here—and wonderful new voices. The mother speaks!" –Anne Snitow

"Moyra Davey has assembled in Mother Reader a chorus of modern voices that explore with brutal honesty what childbearing does to women who are accustomed to a creative life. Thus Adrienne Rich describes 'the murderous alternation between bitter resentment and raw-edged nerves, and blissful gratification and tenderness' that having children provoked in her. And Mona Simpson writes of becoming a mother at age thirty-six, 'It is hard to sign up for the complete annihilation of life as you know it.' The book is a master class in the out-of-body, all too frequently out-of-your-mind experience that falls under the prosaic, and thus ludicrously misleading, heading of parenting." –Ben Dickinson, Elle