Lord, I Want to Know You: A Devotional Study on the Names of God (Paperback)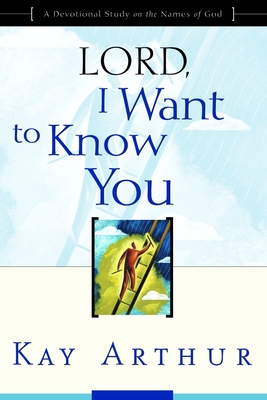 $15.99

Usually Available/Ships in 5-7 Business Days
Description
---
Discover the Limitless Power of God's Name.

Enjoy the expanded and updated editions of the best-selling "Lord" Bible Study Series from Kay Arthur.  The "Lord" study series is an insightful, warm-hearted Bible study series designed to meet readers where they are--and help them discover God's answers to their deepest needs.

So much of our confusion and pain results because we don't know God -- who He really is, how He works in our lives.

But with Lord, I Want to Know You, that will all change. When you know God more fully by studying His names -- Creator, Healer, Protector, Provider, and many others -- you'll gain power to stand strong. You'll find strength for times of trial, comfort for pain, provision for your soul's deepest needs. And your walk with God will be transformed.

Let Kay Arthur guide you through the Scriptures in this deeply insightful study. Your daily time with God in His Word will introduce you to the limitless treasure available to you as His child. And these are truths you can share easily with others, individually or in small groups.
About the Author
---
KAY ARTHUR is one of America's best-known and most-beloved Bible teachers and authors. With her husband, Jack, she is the cofounder of Precept Ministries International, the leaders in inductive Bible-study resources. Kay also reaches hundreds of thousands of people internationally through her "Precept upon Precept" inductive Bible studies. In addition, her daily and weekly television programs air on over 900 stations in 30 countries.
Praise For…
---
CBA bestseller

"How I wish we could sit face to face over a cup of coffee. What awesome stories I could tell you about people who have studied the names of God. As you discover the names of God, I believe you will have a story of your own!" --Kay Arthur