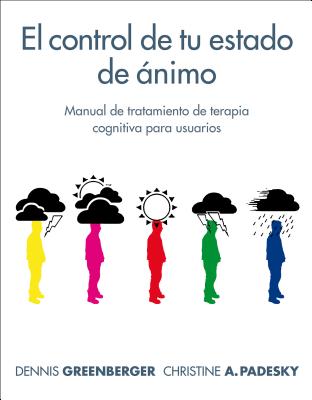 Description
---
This Spanish-language edition now makes MIND OVER MOOD accessible to a Spanish-speaking audience. Expertly translated and unabridged, the book contains a full set of worksheets, questionnaires, hint boxes, and troubleshooting guides. A popular self-help resource, the book can also be used to help therapy clients reinforce their skills, learn new material between sessions, and continue the therapeutic learning process after termination.

About the Author
---
Dennis Greenberger, Ph.D., clinical psychologist, is Director of the Anxiety and Depression Treatment Center in Santa Ana, California, and Assistant Clinical Professor at the College of Medicine, University of California, Irvine. Founder and former director of an inpatient cognitive therapy program, he also conducts training workshops in cognitive therapy.

Christine A. Padesky, PhD, clinical psychologist, is a Distinguished Founding Fellow of the Academy of Cognitive Therapy. Coauthor of five books, she is an internationally recognized speaker and a recipient of the Distinguished Contribution to Psychology Award from the California Psychological Association. Her Center for Cognitive Therapy, in Huntington Beach, California, hosts www.MindOverMood.com, a website for the public.

Praise For…
---
"Dennis Greenberger and Christine Padesky are excellent teachers of cognitive therapy. The materials in Mind Over Mood are clear and practical. It is wonderful to see that their work will now be available to Spanish-speaking professionals and patients." --Ricardo F. Muñoz, PhD

"Los Drs. Greenberg y Padesky son excelentes maestros de terapia cognitiva. Los materiales en su libro "Mind Over Mood" son claros y prácticos. Es un placer ver que sus contribuciones estarán al fin al alcanze de profesionales y pacientes de habla hispana." --Ricardo F. Muñoz, PhD

El control de tu estado de animo: Manual de tratamiento de terapia cognitiva para usuarios (Paperback)