Since I Laid My Burden Down (Paperback)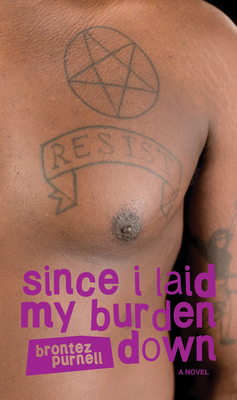 $17.95

Usually Available/Ships in 5-7 Business Days
Description
---
Whiting Award winner Brontez Purnell's debut novel is an uninhibited portrait of growing up gay in 1980s Alabama: exploring art and sex with "more layered insight than the page count should allow" (Hanif Abdurraqib, MTV News).
DeShawn lives a high, creative, and promiscuous life in San Francisco. But when he's called back to his cramped Alabama hometown for his uncle's funeral, he's hit by flashbacks of handsome, doomed neighbors and sweltering Sunday services. Amidst prickly reminders of his childhood, DeShawn ponders family, church, and the men in his life, prompting the question: Who deserves love?
A modern American classic, Since I Laid My Burden Down is a raw and searing look into the intersections of memory, Blackness, and queerness.
An antidote to the rigamarole of gay lit. --Mask Magazine
Slim yet potently realized, with a lot to ponder. --The Bay Area Reporter
"Since I Laid My Burden Down has a fearless (sometimes reckless) humor as Brontez Purnell interrogates what it means to be black, male, queer; a son, an uncle, a lover; Southern, punk, and human. An emotional tightrope walk of a book and an important American story rarely, if ever, told." --Michelle Tea, author of Black Wave
About the Author
---
Brontez Purnell has been publishing, performing, and curating in the Bay Area for over ten years. He is author of the cult zine Fag School, frontman for his band The Younger Lovers, and founder and choreographer of the Brontez Purnell Dance Company. Formerly a dancer with Gravy Train!!!, a queer electro indie band that gained national prominence in the mid-2000s, Purnell's other prominent artistic collaborations include his supporting role in the queer independent feature film, I Want Your Love (Dir. Travis Mathews, 2012). He was a guest curator for the Berkeley Art Museum's L@TE program in 2012, awarded an invitation to the 2012 Radar Lab queer arts summer residency, honored by Out Magazine's 2012 Hot 100 List and 2013 Most Eligible Bachelors List, and most recently won the 2014 SF Bay Guardian's Goldie for Performance/Music. His previous books include one graphic novel (with illustrator Janelle Hessig) The Cruising Diaries (Gimme Action), and a novella Johnny Would You Love Me (if My Dick Were Bigger) (Rudos and Rubes).