Where Hummingbirds Come From Bilingual Norwegian English (Paperback)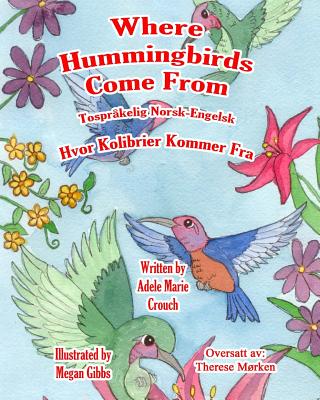 $17.19

Usually Available/Ships in 5-7 Business Days
This book is non-returnable.
Description
---
Fantasy, folklore, and magic fill the air as a young girl's grandmother relates a legend of Where Hummingbirds Come From. Grandmother explains the magic waters and the beauty of this tiny bird. Where Hummingbirds Come From may well become an all-time children's classic and a perfect book for the young reader. As well as a wonderful study guide for English as a second language students. Norwegian (norsk) is a North Germanic language spoken mainly in Norway, where it is the official language. Along with Swedish and Danish, Norwegian forms a dialect continuum of more or less mutually intelligible local and regional variants. Norwegian is one of the working languages of the Nordic Council. Under the Nordic Language Convention, citizens of the Nordic countries who speak Norwegian have the opportunity to use their native language when interacting with official bodies in other Nordic countries without being liable to any interpretation or translation costs.
About the Author
---
Adele is a published author. Catherine's Travels - Book I and Catherine's Travels - Book 2, Lawson's Search, are historic novels. How the Fox Got His Color and Where Hummingbirds Come From are children's picture books. The Dance of The Caterpillars, which she illustrated herself, is a lesson in prepositions with pictures written for 2nd grade level readers. The Gnome's of Knot-Hole Manor is a chapter book using words with silent letters and words that are spelled differently and sound the same. Her newest release, Alphabet Alliteration, is a new twist on learning A B C's. All of Adele's books are available through her web site (http: //www.creationsbycrouch.com ) and Amazon. Her children's picture books are available bilingual in numerous different languages. Adele Crouch is also a self-taught artist, working in: Acrylics, Oils, Colored Pencils, Graphite and Charcoal. She has been selling her work for more than 40 years. During the last 30 years, Adele has sold and displayed her work in galleries and other businesses in northern and southern California, Washington, Idaho, Tennessee, Arkansas, New Mexico and Arizona. Her interest in art was inspired by a history lesson which featured Michelangelo when she was nine years old. Three of Adele's relatives, her grandfather and two aunts, were artists. This helped in giving her incentive to study and enhance her abilities in the field.