Who Cares: The Hidden Crisis of Caregiving, and How We Solve It (Hardcover)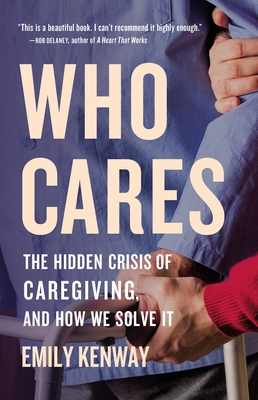 $30.00

Usually Available/Ships in 5-7 Business Days
Description
---
An intimate and deeply researched account of the experiences of unpaid caregivers, this "beautiful book" (Rob Delaney) calls for us all to put care at the center of our lives
When Emily Kenway became the primary caregiver for her terminally ill mother, her life was changed forever. Although she was lonely, she was far from alone: millions of caregivers all around the world are silently suffering from poverty, isolation, and burnout. Saving their nations' economies billions by providing nonprofessional care, these people—primarily women—remain largely ignored by politicians, in part because the demands of care itself keep them from effectively advocating for their needs. In Who Cares, Kenway brings the caregiving crisis into the light. Blending expert research with insights from her own experience, Kenway shows us that building a world that cares for its caregivers requires us to fundamentally reimagine the role of care in our society, bringing it from the margins to the center of our collective life. 
Powerful and deeply reported, Who Cares is an essential read for anyone who has ever cared for, or will receive care from, another person—which is to say, for everyone.  
About the Author
---
Emily Kenway is a writer and activist with a background in labor policy. Her work has been nominated for a Pushcart Prize. Kenway is the author of The Truth About Modern Slavery and writes regularly for international publications. She is a PhD scholar in social policy at the University of Edinburgh, where she also resides. 
Praise For…
---
"Opening with a moving but brutally honest testament to her mother's last days, this book offers a deep witness to end-of-life caregiving…this book offers courage to face [the] future with a more open mind and meaningful preparations…Highly recommended."
 —
Library Journal
"an impassioned plea on behalf of the countless unpaid caregivers, mostly women, who take care of the world's sick, elderly, and disabled … eye-opening … a resounding call to action."
—
Publishers Weekly
"A new book by Emily Kenway, 
Who Cares 
renders starkly visible the often invisible work of caregiving—one of the fastest-growing segments of the American workforce—and the toll such work exacts on its providers. With its impressive synthesis of research, textured analysis of care work in different countries, and its attention to the ethical issues inherent in elder care, it deserves a space on the shelf next to similar books on elder care … [Kenway] writes with bracing honesty."
 —
American Prospect
"This is a beautiful book. It's painful to read but extremely refreshing in its acknowledgement of facts as sure as gravity: we will age, get sick and die. It probably won't be pretty, and we'll need care ourselves and/or have to give care to those we love. And all the while capitalism will punish us for both needing and giving care. Emily Kenway's story of caring for her mother plus her exhaustive research into the subject of care at large results in a visceral, unsparing picture of our current situation. It also offers prescriptions and possibilities for the future. Her mother would be proud of the book and I am grateful for it. I can't recommend it highly enough."—
Rob Delaney, author of A Heart That Works
"Who Cares" is a powerful, enlightening journey through the world of caregiving, unique in its capacity to both show its cost for those, mostly women, who provide it, and imagine alternatives to the way it is presently organized. Inspired by a direct personal experience, as well as many testimonies and insightful historical research, the book denounces the social acceptance of the sacrifice of life millions of women are making to not abandon their kin when no longer self-sufficient or dying.  Courageous in its detailed articulation of what caregiving actually entails, and the loss and suffering involved in this work, this is a book we all must read, For as Kenway convincingly argues, the crisis it reveals is something we will all experience, sooner or later in our lives." 
—
Silvia Federici, author of Caliban and the Witch
"A heartbreaking, beautiful and necessary read. Emily Kenway has written an eloquently vulnerable book that is part memoir and part polemic, and every page of it an act of love. Who Cares delves deep into the brutal realities of providing care in a world designed around the needs of capital, into Kenway's own story of caregiving for her fiercely independent mother as well as stories of caregivers from around the world, in order to show us how much our world would need to change in order to truly value and center care."
—
Sarah Jaffe, author of Work Won't Love You Back
"Who Cares is a vitally important book, but it's also a book full of heart, imagination and, yes, care. Deeply moving and rigorously unsentimental, Emily Kenway's book doesn't just report on the current dearth of support for caregivers but focuses on solutions and creative possibilities. Care should be at the heart of our society, and our politics, and Who Cares does a wonderful job showing us why."
—
Jon McGregor, author of Reservoir 13
"Emily Kenway deftly blends heart-breaking personal stories with facts, figures and policy analysis to show why we cannot go on expecting so much of the family and friends of people who need care – which will mean all of us – and offers a radical vision of how we might do things better in future. The Secretary of State for Health and Social Care should be the first to read it."
—
Lady Brenda Hale, former President of the Supreme Court of the United Kingdom
"Almost all of us will become carers at some point in our lives. In this important and deeply moving book Emily Kenway shares the story of caring for her mother, showing how we could seed the collective change we need – from new practices of kinning to shifts at work and within the state."
—
Hilary Cottam, OBE, author of Radical Help
"The crisis of care affects us all, and Emily Kenway's astute, touching and insightful book gives us the power to tackle it head on with the fairness and compassion that is so desperately needed. Everyone needs to read this book."
—
Victoria Bateman, Cambridge University