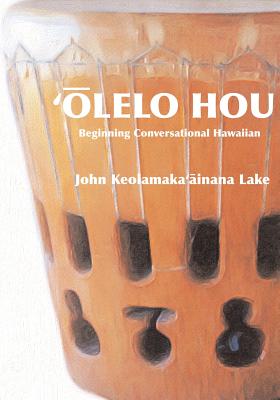 $22.94

Usually Available/Ships in 5-7 Business Days
This book is non-returnable.
Description
---
The best way to speak a new language with confidence is to get used to it. 'Olelo Hou encourages the reader to obtain conversation-level skills in Hawaiian through sense and mimicry, trial and error. There are lessons on grammar and vocabulary within that are launching points to apo 'ana - catch new words through listening - as the people of Hawaiian antiquity did. Reprinted for the first time in years, 'Olelo Hou - Beginning Conversational Hawaiian is the text Kumu John Keola Lake authored and taught to four decades' worth of high school, college and continuing education students. It is an ideal resource for the individual or group interested in building habits that lead to future fluency in the language of the islands.
About the Author
---
A native speaker since childhood, John Keola Lake was a founding member and president of both the 'Ahahui 'Olelo Hawai'i (Association for Hawaiian Language) and the Hui 'Imi Na'auao, a State of Hawai'i conference for Hawaiian Studies teachers and specialists. He contributed to the Hawaiian Renaissance of the mid-Twentieth century by instituting classes at Honolulu's Saint Louis High School in Hawaiian history in 1964 and language, music and hula classes in 1965, reintroducing a Hawaiian cultural curriculum to the secondary school system after a decades-long ban since annexation. Before his passing in 2008, Kumu Lake had consulted for various public and private organizations, including the administrations of several county mayors, state governors and members of U.S. Congress.
'Olelo Hou: Basic Conversational Hawaiian (Paperback)