Minecrafter Architect: The Builder's Idea Book: Details and Inspiration for Creating Amazing Builds (Architecture for Minecrafters) (Paperback)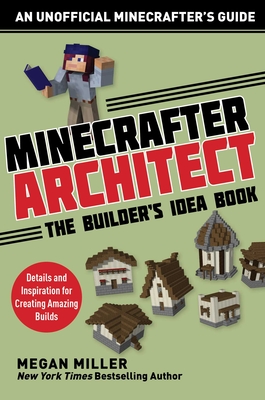 $12.99

Usually Available/Ships in 5-7 Business Days
Description
---
Tired of the same old 9x9 cobblestone cubes? Stuck figuring out what type of windows to add to your mansion? Here are dozens of examples of window treatments, roofs, walls, paths, road, bridges, floorplans, block palettes, and more.
Copy them exactly or use them as inspiration, and you'll be mastering the art of creating unique and detailed Minecraft builds.
Guided by hundreds of in-game, step-by-step photos and simple instructions, kids will learn how to add excitement, artistry, and variety to everything they build.
Perfect for beginner to advanced Minecrafters who want to learn more
Includes hundreds of step-by-step, full-color photos to guide readers of all ages
Helps encourage creativity and problem-solving skills
Minecrafter Architect: Builder's Idea Book
appeals to the virtual artist in every gamer and holds the valuable secrets players need to stretch their building skills. Become a Master Builder of Structures!
About the Author
---
Megan Miller is the author of the best-selling Hacks for Minecrafters series. She plays Minecraft, modded Minecraft, single player and multiplayer, pretty much every day. She's feeling especially lucky to be writing books about Minecraft, as it makes this all seem vaguely professional. She lives in the mesa biomes of New Mexico with her tamed wolf Layla (not really Layla's a dog!)