Sidesplitting Jokes for Minecrafters: Ghastly Golems and Ghoulish Ghasts (Paperback)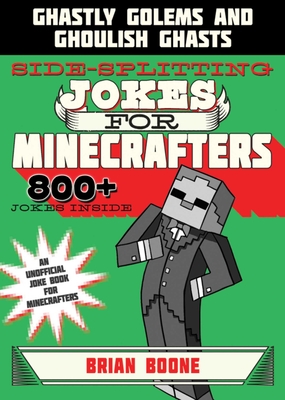 $7.99
Special Order - Subject to availability, call or email to order
Description
---
Sidesplitting Jokes for Minecrafters: Ghastly Golems and Ghoulish Ghasts is the fourth book in the Jokes for Minecrafters series, which has more than 800 belly laughs waiting for you! This laugh-a-minute book leaves no enderman or zombie unscathed, and comes complete with silly illustrations for even more fun!

Inside you will find side-splitters such as:

Q: What's black and white and dead all over?
A: A Zombie in a tuxedo.

Q: Why did Steve search for ore all day?
A: Because he digs it.

For kids ages 5 and up, this book of jokes will have all your friends and family doubling over! Bust out the funniest of these Minecrafter jokes at home or school for endless jokes and fun!

This adventure series is created especially for readers who love the fight of good vs. evil, magical academies like Hogwarts in the Harry Potter saga, and games like Minecraft, Terraria, and Pokemon GO.
About the Author
---
Brian Boone wrote the music trivia (with jokes) book I Love Rock 'n' Roll (Except When I Hate It). He is a regular contributor to Funny or Die, Popdose, Splitsider, and The Retroist, and his work has appeared on McSweeney's Internet Tendency, Adult Swim, The Impersonals, and the Huffington Post.