Jokes for Minecrafters: Booby Traps, Bombs, Boo-Boos, and More (Paperback)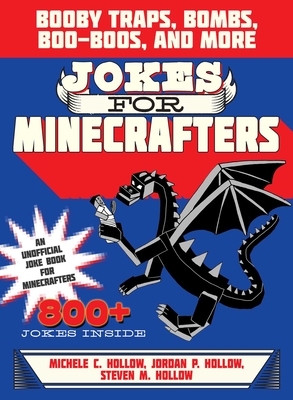 $7.99

Usually Available/Ships in 5-7 Business Days
Description
---
Jokes for Minecrafters celebrates the humor in Minecraft from skeleton mobs to zombie pigmen. Be prepared to laugh! No ghast or blaze is safe from being the punch line of these jokes!
Inside you will find hilarious jokes such as:
Why did the slime stay home? He had no place to goo!
How did Steve know that the skeleton was lying to him? He could see right through him.
For kids ages five and up, this is the perfect book for at home, at school, or really anywhere! You'll love telling these silly jokes to your friends and family. As a bonus, you'll find illustrations throughout for even more laughs!
Sky Pony Press, with our Good Books, Racehorse and Arcade imprints, is proud to publish a broad range of books for young readers—picture books for small children, chapter books, books for middle grade readers, and novels for young adults. Our list includes bestsellers for children who love stories told with LEGO bricks, books that teach lessons about tolerance, patience, and the environment, and much more. We also publish books for fans of Minecraft and Pokemon GO, including books full of useful hacks, tips, and tricks, as well as Minecraft adventure stories for readers who love the fight of good vs. evil, featuring a magical academy similar to Hogwarts in the Harry Potter saga. While not every title we publish becomes a
New York Times
bestseller or a national bestseller, we are committed to books on subjects that are sometimes overlooked and to authors whose work might not otherwise find a home.
About the Author
---
Michele C. Hollow is an award-winning writer who learned about Minecraft from her son, Jordon. She blogs at Pet News and Views and is the author of several children's books. She has absolutely no sense of humor, which her husband and son find ironic, but she doesn't get. She lives in South Orange, New Jersey.

Jordon P. Hollow plays Minecraft every chance he gets. An avid reader, especially on the subject of Minecraft. Jordon loves mac 'n cheese, grilled cheese, and Tastycake pies. He is a high school student and lives in South Orange, New Jersey.

Steven M. Hollow is an accomplished writer, actor, storyteller, puppeteer, and teaching artist. He began playing video games with the original introduction of Pong and plans to move on to other video games once he figures out how to move the paddles. He lives in South Orange, New Jersey.