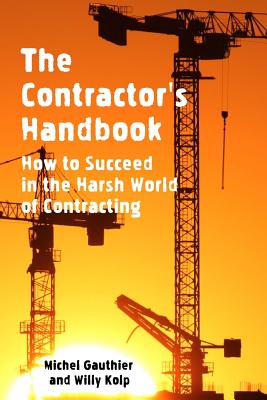 $6.89

Usually Available/Ships in 5-7 Business Days
This book is non-returnable.
Description
---
This is a practical, down-to-earth handbook for contractors and their personnel. It is a gold mine of tips, advice and references to help builders make the most of their contracts, from sharp tendering to successful dispute resolution through adept execution and ingenious cost control. Written by seasoned professionals, the handbook is rich with insight and guidance to optimize business opportunities and steer clear of the endemic pitfalls which plague the industry. This book is must for any engineer, surveyor or professional in the construction trade.
About the Author
---
The Authors: between Michel and Willy there is nearly one hundred years of construction life, all of it on the contracting side of the fence. Projects have taken them to some dozens of countries in Europe, Africa and the Middle East. They have brushed shoulders -and occasionally crossed swords- with most if not all types of clients, architects, resident engineers, sub-contractors, suppliers and dispute resolution practitioners. They have suffered from nearly all possible shortcomings and errors -including their own- in the construction business. Their practical legacy is priceless.
The Contractor's Handbook: How to Succeed in the Harsh World of Contracting (Paperback)