Where Hummingbirds Come From Bilingual Romanian English (Paperback)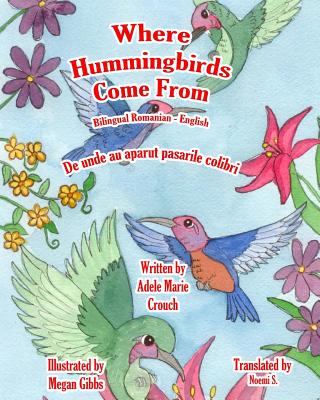 $17.19

Usually Available/Ships in 5-7 Business Days
This book is non-returnable.
Description
---
Fantasy, folklore, and magic fill the air as a young girl's grandmother relates a legend of Where Hummingbirds Come From. Grandmother explains the magic waters and the beauty of this tiny bird. Where Hummingbirds Come From may well become an all-time children's classic and a perfect book for the young reader. As well as a wonderful study guide for English as a second language students.
About the Author
---
"Alphabet Alliteration" is a new twist on an old subject, learning the English alphabet. "How The Fox Got His Color" and "Where Hummingbirds Come From" are picture books for children ages 3 - 6 years of age. "The Dance of The Caterpillars," a lesson in prepositions is designed for 2nd grade students. "The Gnomes of Knot-Hole Manor" is a chapter book targeting 3rd graders. It teaches words with silent letters and words that sound the same but are spelled differently. "Catherine's Travels" is an historic novel that takes place in Missouri during the 1800's. Catherine and her family flee war torn Austria seeking a new life in America. Disaster strikes and Catherine finds herself alone in the wilderness. "Catherine's Travels Book 2 Lawson's Search" After Lawson's beautiful wife, Catherine, is kidnapped he embarks on a search that will take him across the United States, over the Rocky Mountains and into the land of the Navajo. Catherine will take a terrifying, yet rewarding journey with her husband's starch enemy. Blue Eyes goes on a vision quest that will change his life forever. Adele is an artist as well as a published author. Her books are currently available on the internet (Amazon and Barnes and Noble), through her web site (http: //www.creationsbycrouch.com ), and on Kindle and Nook Creations by Crouch is making an attempt to produce bilingual books that will not only assist people in learning the language of their choice, but also to preserve (in some small way) languages that are in danger of becoming extinct. With that in mind, Adele is always on the lookout for translators of new and endangered languages. Please feel free to contact Adele if you are a native speaker of any Native American languages. Adele's children's books have become popular with English as a second language students and foreign language students all over the world and are on the top 10 list of ESL study material on Amazon. Her website is filled with study material to help people study foreign languages. It includes - vocabulary lists, MP3 files, and even has a list of the questions you need to know to pass the US citizenship exam. All of this is free to the viewer. See: www.creationsbycrouch.com If you wish to contact Adele, you can email: Adele@creationsbycrouch.com